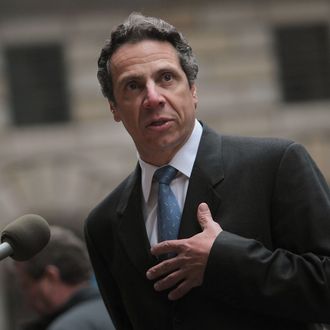 Photo: Chris Hondros/2010 Getty Images
In January, Governor Andrew Cuomo managed to pass one of the strictest gun-control laws in the country, but now he's making it somewhat less restrictive. While the law, which goes into effect on April 15, would have banned the sale of magazines that hold more than seven rounds of ammunition, the governor announced on Wednesday that he's working with legislators to make purchasing ten-round magazines legal in New York. "There is no such thing as a seven-bullet magazine," Cuomo explained. "That doesn't exist. So you really have no practical option."
Cuomo downplayed the revision, saying it merely addresses a few "ambiguities" and "grammatical errors." The law, which passed in January, included an exemption for the use of ten-round magazines at firing ranges and in competitions, but buying the magazines is banned. The new language will allow ten-round magazines to continue to be sold in New York, but it will be illegal to load more than seven rounds into those magazines.
The governor insisted on Wednesday that the law "was not hastily put together," and said he and his aides talked with gun manufacturers over the course of "many, many weeks" — so presumably they were aware that capping magazines at seven rounds would be an issue. As the Democrat and Chronicle reported last month, gun owners were confused and angered by the restriction on magazine size (among other parts of the bill), but lawmakers dismissed their concerns. Cuomo said at the time, "They can make different sized clips," and while explaining how they arrived at the number seven, Majority Leader Joe Morelle suggested that gun manufacturers would change to comply with the law. "Some wanted it higher, some wanted it lower, so seven became the place where we could get people to compromise and agree to … it was the subject of much discussion," Morelle told the paper. "In time, if other states follow New York's lead, manufacturers will begin to produce magazines that have seven-round clips." The Democrat and Chronicle couldn't find any manufacturers that said they planned to start producing seven-round magazines. 
In addition to the change in magazine sizes, lawmakers are also considering adding a magazine limit exemption for current and retired law enforcement officers and clarifying that the assault weapons ban doesn't apply to props used in movie and TV productions filming in the state. While Cuomo is responding to some of the complaints from gun-rights activists, the assault weapons ban is still happening, and several gun groups are still planning to sue to overturn it.