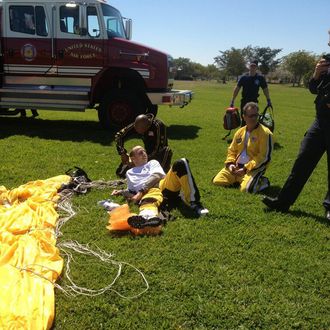 Daredevil Brian Cashman, after breaking his right fibula and dislocating his right ankle while skydiving.
Photo: New York Daily News/Daily News
Yesterday, Yankees GM Brian Cashman broke his right fibula and dislocated his right ankle while skydiving in Florida with the Golden Knights of the U.S. Army. Cashman, who took part in the jump to raise awareness for the Wounded Warrior Foundation, got his foot caught in the ground while landing during a tandem jump and said he "heard a pop" in his ankle. This isn't the first time Cashman has left his comfort zone to help out a charity, however. Here, now, a look back at the danger levels of past Cashman charitable endeavors, graded on a scale of one to five skull-and-crossbones bandannas, Cashman's headwear of choice while taking part in such activities.
2011: Cashman sits in a dunk tank during a Yankees HOPE Week event on Staten Island.
Danger Level:

Drowning is highly unlikely in such shallow water, and warm summer temperatures eliminate the risk of any temperature-related health issues. This one's totally safe.
2011: Cashman serves as a guest bartender to help raise money to fight cancer.
Danger Level:

Also pretty safe, assuming you don't introduce fire to the proceedings. (There's no evidence that Cashman did, though that would have been bad-ass.) Still, overserve the wrong patron, and there's the potential for shenanigans. Cashman, as best we can tell, didn't have to intervene in any alcohol-fueled fights during his stint behind the bar, but one won't always be so lucky.
2011: Cashman sleeps on the street in Times Square to raise awareness for homeless children.
Danger Level:

We'll assume there was some sort of police presence for this one, reducing the risk that, say, Cashman's wallet would be stolen in the middle of the night while he slept. But this took place on a chilly November night: Via a report from the next day, it was about 40 degrees when Cashman arrived. Cashman came prepared to protect against the elements: He was bundled up in a heavy coat, a winter cap, and brought an extra pair of gloves. He tucked himself inside a sleeping bag, which itself was placed on pieces of cardboard to separate him from the cold sidewalk. But even at above-freezing temperatures, the CDC warns that hypothermia is a possibility under certain circumstances: "Hypothermia is most likely at very cold temperatures, but it can occur even at cool temperatures (above 40°F) if a person becomes chilled from rain, sweat, or submersion in cold water." So basically, if you're going to do this in November, bundle up, don't do it in the rain, and don't run a 5K beforehand.
2010–2012: Cashman rappels down a 22-story building during Stamford's Heights & Lights event.
Danger Level:

Technically, this isn't a charity event, but lending one's star power to a public gathering in the name of civic pride is similar in spirit. It's a controlled environment — Cashman was fitted with a safety harness — but there's some inherent risk in descending from the top of a 22-story building. (There's no safety net, after all.) Furthermore, it's a holiday event, and Cashman rappelled down the building while wearing this elf costume, so there's also the fear that he could have died of embarrassment.
2013: Cashman skydives to raise awareness for the Wounded Warrior Foundation.
Danger Level:

Even with experienced military personnel involved, this one can apparently go very wrong. The skydiver might avoid a catastrophic outcome — plummeting to the ground because of a broken parachute — but sticking the landing is crucial, and a mishap at the moment of impact can have painful consequences. Cashman, who actually injured himself on his second jump of the day, had expressed some apprehension last week about taking part. Via ESPN New York: "I'm kind of excited for the opportunity to do it but at the same time, big-time nervous about doing it." For good reason.