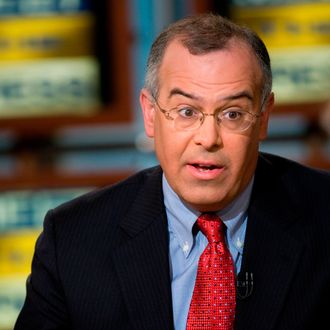 Photo: Brendan Smialowski/Getty Images
New York Times columnist David Brooks is teaching a course at Yale this semester called "Humility" and, commensurate with the name, he's learning things, too. In fact, his column today is dedicated entirely to the work of "one terrifically observant senior, Victoria Buhler" and a "dazzling paper" she wrote in the mold of his 12-year-old Atlantic article "The Organization Kid," which is on the class syllabus. Buhler's insights about her generation just happen to sound exactly like David Brooks, but with updated, if obvious, cultural references.
Buhler, who according to the Yale Herald's Bullblog is "rumored to have dated James Franco," gave permission to her star columnist professor to quote from her assignment, as any "achievatron" (Brooks's word) Ivy Leaguer would. And quote he did:
In sum, today's graduates enter a harsher landscape. Immediate postgrad life, Buhler writes, will probably bear a depressing resemblance to Hannah Horvath's world on "Girls." The hit song "Thrift Shop" by Macklemore and Ryan Lewis "is less a fashion statement, more a looming financial reality."
In Brooks-ian fashion, Buhler even gave this amorphous, loosely defined group an Important Sounding Name by capitalizing some random letters:
Buhler argues that the group she calls Cynic Kids "don't like the system — however, they are wary of other alternatives as well as dismissive of their ability to actually achieve the desired modifications. As such, the generation is very conservative in its appetite for change. Broadly speaking, Cynic Kids distrust the link between action and result."
Both Brooks and Buhler shake their heads at a world not driven by data, but provide none of their own, favoring instead empty, topical generalizations:
Maybe this empirical mind-set is a sign of maturity, but Buhler acknowledges that the "yearning for definitive 'evidence' … can retard action. … The multiplicity of options invites relativism as a response to the insurmountable complexity. Ever the policy buffs, we know we are unable to scientifically appraise different options, and so, given the information constraints, we stick with the evil we know."

She suggests calling this state of mind the Tinder Effect, referring to the app that lets you scroll through hundreds of potential romantic partners, but that rarely leads to a real-life encounter. […]

She wonders if the educated class is beginning to look at the less-educated class — portrayed on TV in shows like "Teen Mom 2" and "Here Comes Honey Boo Boo" — as a distant, dysfunctional spectacle.
Brooks, to make the column his own, appends a random conclusion: "After the hippie, the yuppie and the hipster, the cool people are now wonksters," adding, "And, yes, I gave her an A." And, yes, her classmates are talking about this behind her back.