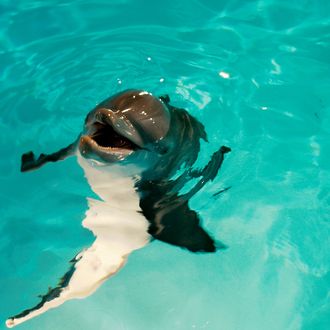 WINTER in Alcon Entertainment's family adventure "DOLPHIN TALE," a Warner Bros. Pictures release.
Photo: Courtesy of Warner Bros. Pictures/?2010 Alcon Film Fund LLC.
When a dolphin was spotted swimming in the East River on Wednesday, New Yorkers were assured that the animal was "not necessarily sick" — meaning this wouldn't be like that time we watched a majestic, but sickly sea creature settle into one of our filthiest waterways and die. Now Kim Durham, the rescue-program director at the Riverhead Foundation, tells the Post, "He's not a healthy animal, but he's not at death's door. He's thin, but he's swimming very well." Biologists will examine it again on Thursday, but in the meantime feel free to share your dolphin-related worries on Twitter.