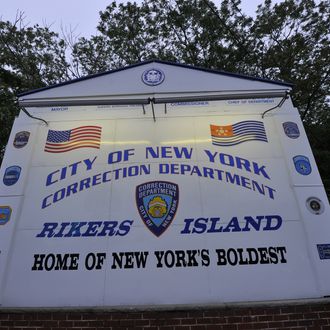 Photo: JEWEL SAMAD/2011 AFP
Yonkers resident and convicted sex offender Matthew Matagrano spent at least a week doing the opposite of what most ex-inmates would do: hanging around in prison. Officials say that the 36-year-old repeatedly snuck into both Rikers Island and the Manhattan Detention Center by impersonating a Department of Corrections official with the help of a fake shield and ID card. He wasn't caught until Friday afternoon, when he showed up at a Bronx courthouse claiming to be a DOC investigator.
Department spokesman Matt Nerzig had this to say:
"Upon learning Thursday evening of Mr. Matagrano's impersonation of a NYC Dept. of Correction employee, and his unauthorized access to a DOC facility, the Department of Correction within hours was able to identify the individual through surveillance cameras. The apprehension this afternoon of Mr. Matagrano occurred within 24 hours of when the dept. learned of the situation." 
Matagrano's exact reasons for entering the jails aren't yet clear. NBC New York reports that he bypassed several security checks at the Manhattan Detention Center, where he "allegedly stole a walkie talkie and smoked cigarettes with inmates." Meanwhile, the New York Post says that he raised suspicions on Rikers "when he moved inmates from one cell to another," though no one stopped him at the time.
This isn't the first time Matagrano has done this kind of thing: In 2004, he pleaded guilty to looking through student records at two Queens schools while posing as a Department of Education official. So far, Matagrano's court-appointed lawyer has not responded to questions about his new client. On Wednesday, he'll return to court to face charges of burglary, possession of forged instruments, larceny, and promoting prison contraband.
This post has been updated throughout.