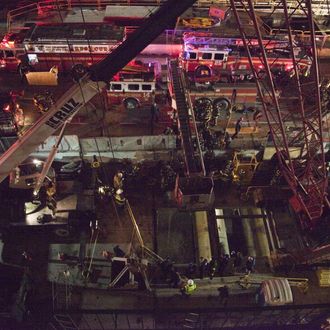 Photo Courtesy Marisa Train
The Fire Department of New York is breaking out some of its big tools to rescue a construction worker on the Second Avenue subway line currently trapped in "muck" 100 feet underground at Second Avenue and 95th Street. The worker has been buried up to his chest after some kind of accident, ABC 7 reports. The first 911 call came in at 8:40 p.m.; exactly what happened isn't yet clear. "Firefighters are removing debris from around him using hand tools and a backhoe." The department is bringing in a vacuum truck to help free the worker, and has lowered a stokes basket to bring him up to the surface.
PIX11 reports people on the scene tied a rope around the stuck man to prevent him from sinking in further, so even though the fire department is predicting a "long-term rescue," he's not in danger of drowning. But "a doctor at the scene told PIX11 that the sheer pressure brought on by the tons of mud can affect circulation, causing blood clots and even stopping blood flow." The man's condition is unknown so far, but we'll keep the news updated as it comes in.
Update, 1:23 a.m.: They got the worker free, according to the New York Times, but his condition is still unclear. Two firefighters were also injured in the rescue attempt. "Another firefighter covered in mud who said he had been in the hole for half an hour called it 'a nightmare.'" The FDNY tweeted this rather dizzying video of the rescue: