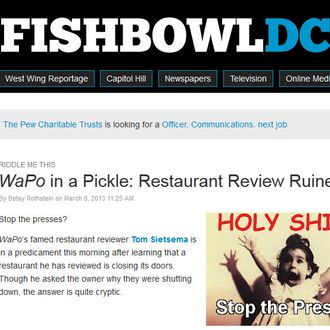 The defamation lawsuit filed by Washington publicist Wendy Gordon against Fishbowl D.C. for its weekly feature "Wendy Wednesday" included some of the more colorful language we've seen in a court filing, including explanations of "DTF," "double-bagging," and "cougar." The MediaBistro site's parent company, WebMediaBrands Inc., filed its response this week on behalf of writers Peter Ogburn and the indefatigable Betsy Rothstein, and according to the paperwork obtained by Daily Intelligencer, the bloggers are going to fight this thing. It's a much drier affair than the initial filing, but it has its moments.
"Defendants deny that the 'blog' postings on FishbowlDC.com identified in the Complaint constitute actionable claims for defamation or false light invasion of privacy," writes attorney Mark Bailen. "To the contrary, the commentary in the postings, when viewed together with the photographs of Plaintiff taken in public places that accompanied the postings, represents satire, opinion, hyperbole and other expressions of speech squarely protected by the First Amendment and District of Columbia law, or is otherwise not defamatory."
While Fishbowl denies the many, many allegations — which included lines like "Contrary to Defendants' false and defamatory statement, Ms. Gordon had not 'straddled Tiger Woods a few Weeks' earlier, or at any time for that matter" — the defense does admit things like "a posting titled 'Wendy Wednesday Tackles Tiger Woods' authored by Mr. Ogburn was published on FishbowlDC. The posting speaks for itself."
The dispatches about Gordon, which mined her Facebook page for material, are no longer online, something her lawyer David S. Wachen argued amounts to saying, "We don't think we did anything wrong, yet we're going to take it all down." Libel law can be complicated, as laid out here by the Washington Post's Erik Wemple, but Gordon is seeking $1 million in punitive damages and $1 million in compensatory damages.
"I just don't think [the First Amendment] applies to a situation where you take someone who is not a public figure and make false and defamatory statements about them," Wachen told Intelligencer today. "I think it's pretty apparent that they took them down because there was a problem and they're trying to mitigate their damage here."
"While we do not generally comment on active litigation, I believe that you will see that our filing makes clear that we do not believe that the Complaint accurately reflects our blog posts or the law with regard to our posts," said Mitchell Eisenberg, general counsel for WebMediaBrands Inc. "Accordingly, we continue to believe that the lawsuit, and all of its allegations, are completely without merit. We are defending against it aggressively and believe that, with the court's assistance, we should be able to promptly resolve the claims in our favor."