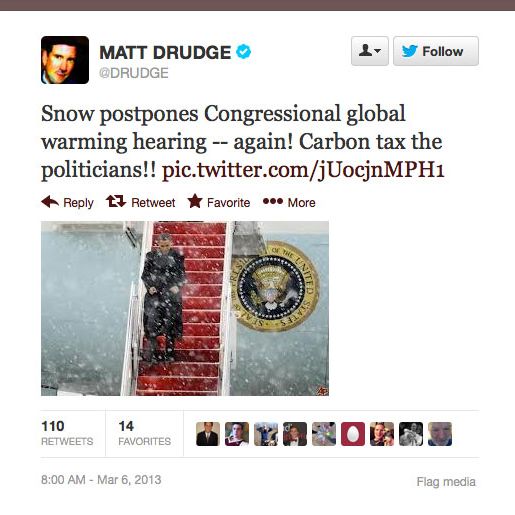 LOLZ x 1,000,000!!!
Photo: Twitter
It takes a real moron to conclude that a snowstorm is proof that climate change, also known as global warming, is not real. Unfortunately, there are a lot of morons out there, and it just tickles them silly when a snowstorm actually cancels a congressional hearing on climate change. As it did today:
>
The House Science, Space and Technology Committee announced early Wednesday that it's postponing its environmental subcommittee's scheduled 10 a.m. hearing on the state of the science behind climate change. As a reason, it cited "weather."
If this sounds like a familiar situation, it's because the same thing happened in 2010 …
The blizzard conditions here in the nation's capital have shut down most area federal government activity. A scheduled Senate Committee on Environment and Public Works hearing discussing the impacts of global warming had to be postponed because of the snow and frigid temperatures.
… and 2007 …
On February 14, CNN's Wolf Blitzer and Fox News Channel's Megyn Kelly and Brit Hume all reported on the cancellation of a House Energy and Commerce Subcommittee hearing on climate change due to severe winter weather conditions in Washington, D.C., with both Blitzer and Kelly deeming the turn of events "ironic," suggesting that cold weather and snow in February cast doubt on the existence of global warming.
Can we just schedule all global-warming hearings for the middle of August from now on? Not because snow in any way disproves climate change, but because we can't stand to see Matt Drudge get this much joy from something so stupid.