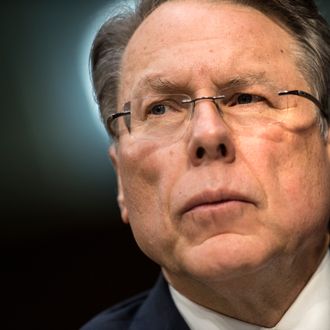 One of the most unpopular aspects of the NRA's stance on gun control — aside from dragging Sasha and Malia into the fight — is the group's opposition to universal background checks. The measure is supported by 89 percent of Americans and three quarters of NRA members, and the Washington Post reports that in confidential talks with congressional staffers, gunmakers, dealers, and gun rights groups say they disagree with the NRA on the issue. The National Shooting Sports Foundation, the trade group for the country's leading firearm manufacturers, told the paper that it won't try to block an expansion of background checks. "That's more the NRA's issue," explained Steve Sanetti, the group's president.
The NRA spooked gun manufacturers by organizing a boycott of Smith & Wesson after it negotiated on gun safety with the Clinton administration, but some groups now see an economic benefit to supporting universal background checks. Gun store owners and retail dealers are already required to perform background checks, and extending the requirement to private sellers might increase their business. Members of the National Conference of Democratic Mayors gave gun manufacturers an extra nudge on Monday, noting that they'd prefer to buy firearms and ammunition for police departments from companies that support increased regulation. "Our residents want to ensure that the tax dollars that are being used to purchase guns for our police departments are going to manufacturers that share our values and support our strategies," wrote Minneapolis Mayor R.T. Rybak in a letter to Glock and the NSSF.
While the NRA's extremism has managed to drive away some allies, on the issue of background checks it still has the support of at least one key legislator. The Huffington Post reports that Democratic Senators Chuck Schumer and Joe Manchin have been trying to hammer out a bipartisan deal, but they've still made no progress with Republican Senator Tom Coburn. For weeks, Coburn, who has an "A" rating from the NRA, has insisted that the legislation must not require records of private gun sales to be kept, since supposedly that's the first step toward a national gun registry. The Senate Judiciary Committee plans to consider several gun control bills on Thursday, so if Coburn doesn't come around by then, Schumer may file his old background check bill as a placeholder. Getting the bill passed without the Republican senator's assistance wouldn't be impossible, but it's not a good sign for what was supposed to be one of the easier gun control measures to get through Congress.