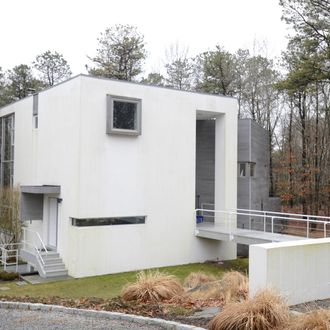 The property in question.
Photo: Hampton Pix / Splash News
What happens after the reality show party scene is over? Apparently the homeowners come back to a filthy mess. Stuart and Susan Silverman claim they unwittingly rented their East Hampton vacation home to something called Vice Productions (warning: bikinis ahead), which used the property for its pArty of 5 show, which sounds like a budget version of E!'s Wild On. An invite from last summer teases: "Pool party with 45 Litres of Bertaud Belieu rose, 144 bottles of Devotion Vodka, Vita Coco Girls … Will be filming travel / party show at house all month." It got predictably disgusting.
The Daily News reports:
They are seeking unspecified monetary damages for damage to the lawn, some $20,000 in repairs to broken door handles and fixtures inside the house and missing silverware.

"A very expensive couch has to be replaced, because, despite the Silvermans best effort to clean it, there were sperm stains that could not be removed," according to the complaint filed in Long Island Federal Court.
They don't even want to know where those forks and spoons ended up.