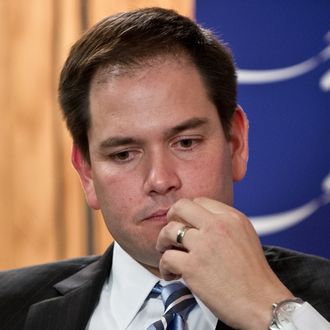 Contemplative Rubio.
Photo: Nicholas Kamm/AFP/Getty Images
Let's not beat around the Bush (vague, lazy pun intended): The No. 1 reason that Marco Rubio is considered one of the front-runners for the 2016 GOP presidential nomination is that he's Hispanic. Yes, he's a good speaker and he's adorable and he has accomplished … something, presumably, as a senator, but what sets him apart from the rest of the pack is that, theoretically, his appeal to Hispanic voters makes him a more viable general election candidate. As of now, however, when he's matched up against Hillary Clinton, Rubio's pull with Hispanics barely nudges the dial.
According to a (caveat: very, very early) Quinnipiac poll, 60 percent of Hispanic voters would support Clinton in 2016, compared to a mere 24 percent for Rubio. Chris Christie, who is not Hispanic, pulled in 23 percent of the Hispanic vote to 62 percent for Clinton. So Rubio only improved upon Christie's share of the Hispanic vote by three percentage points, which is not nearly enough to make up for his much weaker support among independents. As it now stands, current party pariah Chris Christie is obviously the GOP's best shot at defeating Clinton.
The silver lining for Rubio is that there's still plenty of time for his standing with Hispanics to improve — if, for example, he ends up playing a central role in enacting comprehensive immigration reform. Also, Hillary Clinton won't necessarily run for president. (But she will.)