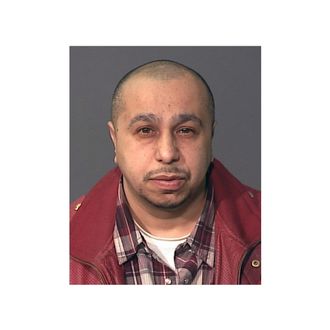 A friend of the man suspected of fatally slamming a speeding BMW into a young couple expecting their first child told police the driver will turn himself in today, eventually, dragging out a case that has become a bizarre media circus. Through his de facto press liaison, a pal from prison, Julio Acevedo gave a day's worth of interviews on Tuesday, but has so far eluded answering any questions from law enforcement. "We don't know if this is a game or what," NYPD Commissioner Ray Kelly said today, according to the Times. "We are actively looking for him; we are not waiting for him to turn himself in."
Update: They found him. See below.
Acevedo is "surrendering today. Sometime after 3 p.m.," his buddy Derrick Hamilton assured. "It will be done today, for sure."
The hunt started over the weekend, when Acevedo fled on foot from the Williamsburg wreck that killed Raizy and Nathan Glauber, both 21, and eventually their baby. Acevedo was arrested for drunk driving in February, and previously served time on a manslaughter charge for killing Kelvin Martin, a.k.a. 50 Cent, the namesake for the rapper. Acevedo has suggested that he was speeding and ran from the scene "because I was scared from someone shooting at me."
Update, 5:45 p.m.: Acevedo was apprehended at the Turkey Hill mini-market in Bethlehem, Pennsylvania, by the fugitive recovery squad, the Post reports.
Times reporter J. David Goodman says the suspect will be extradited to New York to face felony charges.