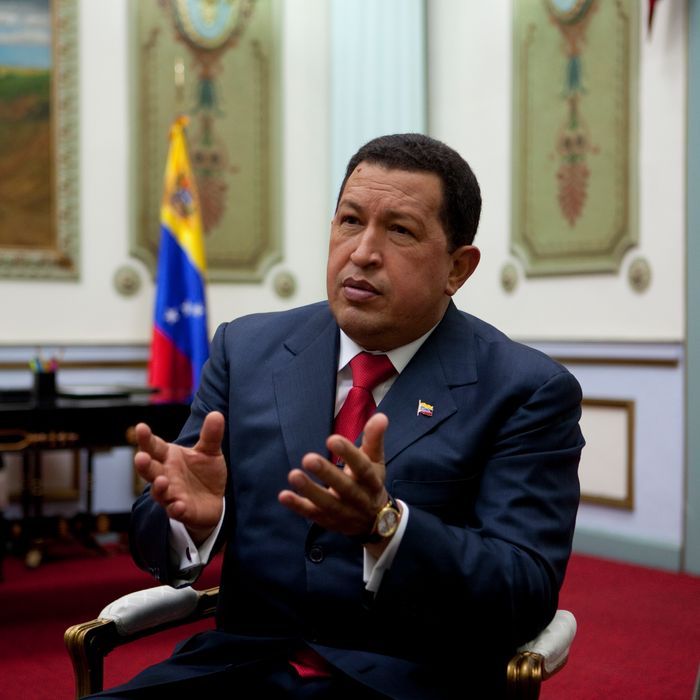 Photo: Ben Speck & Karin Ananiassen
Recently reelected Venezuelan president Hugo Chávez died today after a two-year fight against cancer, Vice-President Nicolas Maduro announced in a teary good-bye to the socialist leader. Chávez first won his country's highest office in 1998, after a failed coup in 1992, and ruled since, known worldwide for his red shirts and endless speeches. "El Comandante" was a charismatic adversary of the United States (but a distant admirer of Barack Obama) and very close with Fidel Castro, providing Cuba billions in aid annually. Earlier this year, Chávez spent months recovering at a Cuban hospital, in the vicinity of his long-ailing friend and adviser Fidel, now 86, who ultimately survived him. Chávez was 58.
It's possible the South American leader will be buried in style, as Foreign Policy reported last year: "Facing what some think is terminal cancer, Chávez is building a $140 million extravaganza to house the remains of Venezuela's founding father, Simón Bolívar. And rumors have it that the building may be intended for Chávez as well." According to one expert, "This is a monument to Chávez's megalomania. It's just too much."
Venezuela, rich in oil but still struggling economically, plans to hold a new election within 30 days.