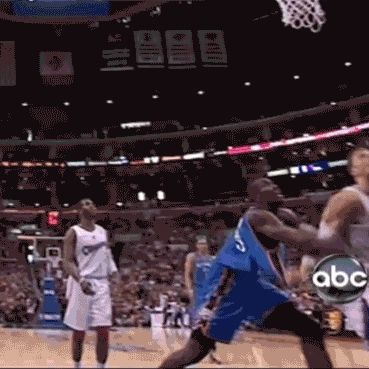 Testicle-bearing men around the nation recoiled in horror earlier this week when, during a struggle for position under the hoop, the Oklahoma City Thunder's Serge Ibaka punched Los Angeles Clippers forward Blake Griffin squarely in the balls. Griffin fell to the floor in anguish, and Ibaka was charged with a flagrant foul. However, the real punishment was yet to come, and after fully reviewing the play, the NBA handed down Ibaka's punishment yesterday: a $25,000 fine.
To put $25,000 in perspective, Ibaka recently signed a four-year contract worth at least $49 million. Many expected that Ibaka would be suspended for at least a game or two, but he wasn't. A piqued Griffin implied that perhaps the NBA didn't want to keep Ibaka out of last night's nationally televised Lakers-Thunder matchup.
Regardless of the NBA's rationale, it's insane that punching a man in the balls is taken so lightly by the league. Sure, Griffin seems to be okay now, but the next guy might not be so lucky. As this ABC News report on the teenage trend of "sack tapping" ("a boy will try to slap or flick the groin of another boy to inflict discomfort or pain") demonstrates, it can take far less than a punch from a muscly six-foot-ten athlete to cause serious damage to the testicles:
In some cases, trauma sustained by sack tapping can be severe enough to rupture a testicle, an injury that can require surgery or even the amputation of the testicle, says [pediatric urologist Dr. Scott] Wheeler.
Ibaka didn't just attack Griffin: He also threatened the lives Griffin's unborn children. That's basically murder. At a minimum, such heinous behavior deserves a ten-game suspension, and, frankly, probably represents the kind of crime against humanity normally handled by the international criminal court in the Hague.