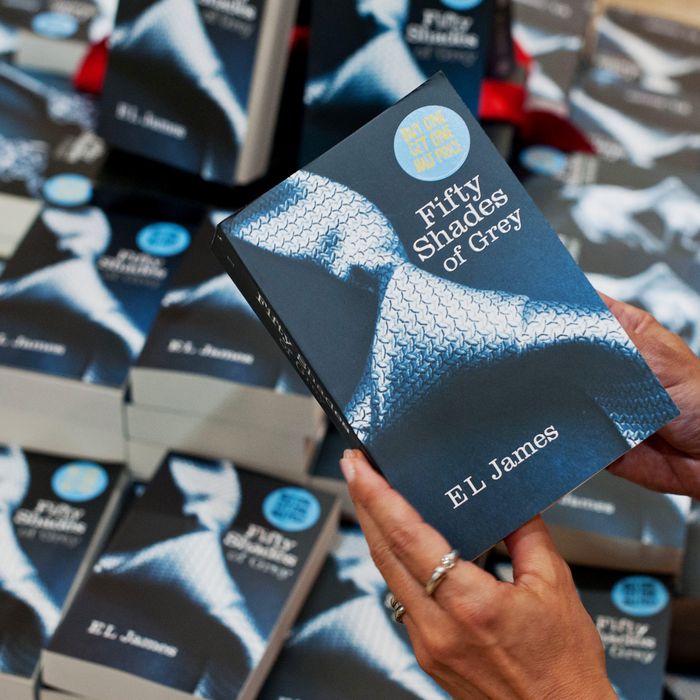 A woman looks at a copy of the novel "Fifty Shades of Grey" at a book shop in central London on July 19, 2012. It's a literary phenomenon: with nearly 40 million copies sold, "Fifty Shades of Grey", an erotic romance spiced up with sado-masochism is well on its way to breaking all the records.
Photo: WILL OLIVER/AFP/GettyImages
It's no secret that E.L. James's Fifty Shades trilogy is the kind of monster publishing success that comes along only once or twice a decade. Last year, Barnes & Noble attributed its stronger-than-expected second-quarter earnings to the series' megasuccess. And around the holidays, Random House — which had the good fortune of publishing the books — gave its employees $5,000 bonuses in celebration of how well Fifty Shades has done.
But we didn't know the full extent of the Fifty Shades financial bonanza until yesterday, when Random House's parent company —the giant German media conglomerate Bertelsmann AG — released its preliminary annual report. What the report revealed is that Fifty Shades's success has propped up not just Random House, but the entire corporate structure above it.
The first thing you learn in Bertelsmann's annual report (PDF) is that it is very, very excited about the sales of the Fifty Shades books, which topped 70 million copies in 2012. The series is mentioned fifteen times in the report, including in the "Highlights section" —where it gets its own mini-chapter called "Book Publishing Passion to the Power of 70 Million" — and the "Overall Economic Developments" section, where it's called a "record-breaking success."
That success was visible on Bertelsmann's balance sheet. Look at this chart, which shows that Random House revenues made up 13.4 percent of the conglomerate's entire haul in 2012, making it bigger than its Be Printers division, and nearly as big as Gruner + Jahr, its European printing arm.
Compare that to 2010, just two years earlier, when Random House looked like a more minor part of Bertelsmann's business, with only 11.4 percent of its revenue.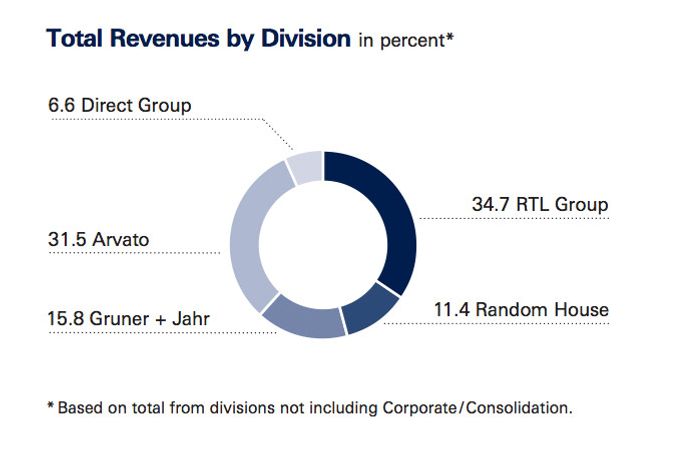 Random House wasn't just a gainer compared to Bertelsmann's other businesses, which include the RTL Group (a European TV corporation) and Arvato (a customer support network). It experienced huge growth on its own. Here's the chart showing just the publishing company's revenue and operating EBIT (earnings before interest and taxes) for 2012 as compared to previous years.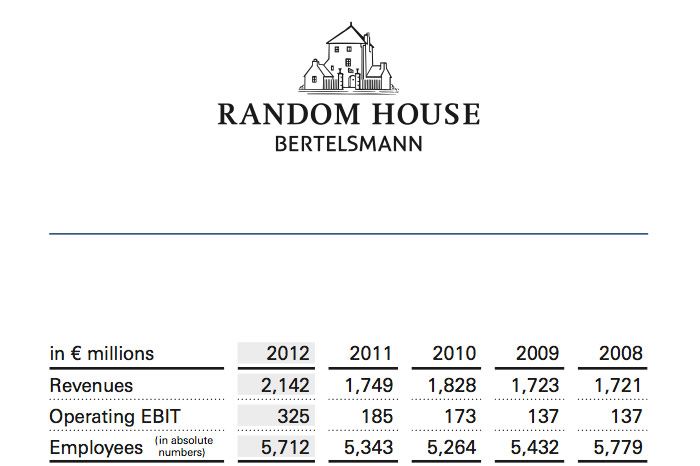 By all normal logic, a book publishing company shouldn't be making roughly double the pre-tax earnings in 2012 that it did in 2011, nor should it be looking more attractive compared to other, non-print businesses in a giant media portfolio. And yet, Random House (which no longer strictly belongs to Bertelsmann, since it recently agreed to merge with Penguin into a new publishing company that Bertelsmann owns only 53 percent of) is still a profit-generating monster. [Update: Random House reminds me that while the Penguin merger has gotten regulatory approval, the transaction has not officially closed, meaning that Random House remains for the moment a Bertelsmann company.]

In a hit-driven business like publishing, there's always the danger that no series will ever recapture the magic of Fifty Shades. But, at the very least, Penguin has to be happy to have agreed to merge with one of the few publishing houses that is still growing like kudzu.