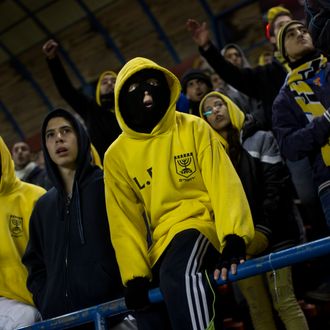 Nice looking bunch.
Photo: Bernat Armangue/AP
Pretty much every soccer team, particularly in Europe, has a contingent of racist fans. That includes Israel's Beitar Jersualem. On Sunday, one of the team's two new Chechen Muslim players was booed "every time he touched the ball," which is par for the course. But when he actually scored a goal, hundreds of members of "La Familia" — a hardcore, right-wing group of Beitar Jerusalem fans — walked out. But they're not racist!
"The reaction to the Muslim players being here is not racist," insisted 19-year-old Akeeva, a Beitar fan. "But the club's existence is under threat. Beitar is a symbol for the whole country."

Jacob, another fan, agrees, "It's just a matter of being Arab [by which he means Muslim]. It's not racism, they just shouldn't be here. Beitar Jerusalem has always been a clean club, but now it's being destroyed – many of the other players are thinking of leaving because of the Muslim players being here."
An obsession with racial purity … where have we heard that before?