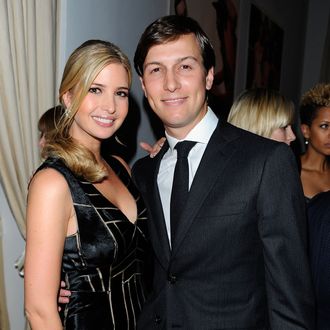 Photo: Andrew H. Walker/Getty Images
To celebrate the little-paper-that-could's 25th anniversary of existence, New York Observer publisher and owner Jared Kushner is throwing a swanky party tonight at the Four Seasons with a guest list including Katie Couric, Blake Lively, and his father-in-law Donald Trump. The paper has also been celebrating by resurfacing classic content from over the years by the likes of David Foster Wallace, Woody Allen, and Candace Bushnell. But it's not all looking backward (and it doesn't all live up to those standards): For its "Next 25: Rising Stars" list, the Observer selected a group of influencers to watch, including the boss's wife Ivanka Trump and more than a few others in Kushner's immediate orbit.
The paper is currently undergoing another transition after a series of them, and all indications are that Kushner is keeping things close, having named his brother-in-law CEO and an old family friend editor-in-chief. Already that loyalty appears to be bleeding into the editorial side; while Trump's entry comes with a note on her marriage, the following have no such disclosures:
Perry Chen and Yancey Strickler: Both Jared and his brother Joshua Kushner are investors in their company, Kickstarter.
Charles Coleman III: The company he founded, Tiger Global Managment, invested $50 million in Joshua Kushner's social gaming company Vostu.
Aryeh Bourkoff: When Kushner was putting together a bid for the L.A. Dodgers, he was "working with" Bourkoff.
Adam Silver: Ivanka Trump called the future NBA commissioner "a good friend."
Jesse Angelo: The New York Post publisher is a top deputy of Rupert Murdoch, a close friend and frequent sailing partner of Kushner's (he even attended the christening of Murdoch's daughters on the banks of the River Jordan).
Jordan Roth: Jared, Ivanka, and the Donald all attended his star-studded wedding.
Mr. Trump, meanwhile, made "The Most Influential New Yorkers of the Past 25 Years" list, but that was a given.