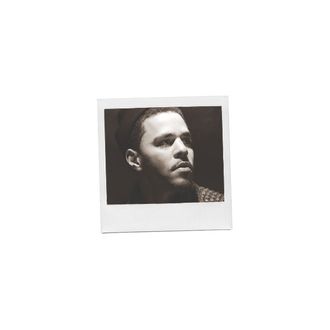 J. Cole.
Photo: Courtesy J. Cole
Name:  J. Cole
Age:  28
Neighborhood: "Midtown, but Queens in my heart."
Occupation: Grammy-nominated hip-hop artist. His sophomore album, Born Sinner, is out later this year. Listen to the first single, "Power Trip," featuring Miguel, here.
Who's your favorite New Yorker, living or dead, real or fictional? 
Tupac. His attitude, energy, and passion is inspiring: He accomplished more in 25 years than most other people do in a lifetime.
What's the best meal you've eaten in New York? 
The lobster mac and cheese at Catch. I probably discovered it about six or seven months ago and just got hooked.
In one sentence, what do you actually do all day in your job?
Look for inspiration.
What was your first job in New York? 
A basketball-coaching job in Queens, coaching kids from ages 9 to 13 in Kew Gardens. They struck me as the type of kids whose parents had money. They were terrible, but I enjoyed it. Even though they sucked, the kids were still fun and cool.
What's the last thing you saw on Broadway?
The Tyson play. It was dope, man. I was a huge Mike Tyson fan growing up; his fights were always on in my house. 
Do you give money to panhandlers? 
Not as much anymore. But when I first got to New York, I was always doing it. I just don't know who to trust anymore. I've seen so many hustles.
What's your drink? 
Hennessy and Coke. Nothing fancy. Sometimes I try a Mai Tai. It's so fruity. It's a little embarrassing, but I like it. Cheesecake Factory has good Mai Tais, actually, which they don't have in New York City. We need to get one. I tried to look into investing, to franchise, but they don't do that.
How often do you prepare your own meals? 
Never. Cereal and PB&Js are the extent of my prepared food.
What's your favorite medication? 
NyQuil. Yo, sometimes I've contemplated just going to sleep with NyQuil, even if I'm not sick. The sleep is so good. It's the new wave.
What's hanging above your sofa? 
Nothing right now because I just moved in. I did just get this signed Jerry Rice jersey as a birthday present that I can't wait to hang.
How much is too much to spend on a haircut? 
I just spent $100, which is definitely too much for anybody. When I was getting my haircut as just a citizen of the world, my haircuts were $20. But you know what it is, I just like to take care of my barber because when I need him to be there, he's there, so the price that I pay reflects our relationship.
When's bedtime? 
Normally 4 or 5 a.m. If it's a late studio night, sometimes it goes to seven. If I was to go to sleep before midnight, I would feel weird about myself, like I wasted a day. My most productive hours are between midnight and five.
Which do you prefer, the old Times Square or the new Times Square? 
The new one's definitely cleaner and safer, and more inviting. I only saw the old one like two times in my life, when I was 14 or 15. I remember seeing peep shows. I couldn't really appreciate it then, so I gotta go with the new one. 
What do you think of Donald Trump? 
I honestly think he's a clown, to tell you the truth. Clearly a smart guy who made a lot of money, but his public image is clownish. I can't take him seriously.
What do you hate most about living in New York? 
I hate that I love it so much, but it's so expensive. I hate the fact that I know that for what I spend for my place, I could live like a king anywhere else in the world. But I love it so much that I settle.
Who is your mortal enemy? 
I'm about to start a beef right now. Nah, my enemy is definitely TIME. There is not enough of it. I wish I had more because there are just so many things I want to do.
When's the last time you drove a car? 
A week ago. I go to restaurants, I drove to the club — Tenjune — for my friend's birthday. Whenever I'm in New York, I'm driving.
How has the Wall Street crash affected you? 
It made me feel really guilty about finally getting some money.
Times, Post, or Daily News? 
New York Times, definitely. I really just go to Digg every day.
Where do you go to be alone? 
My house. That's all I have. I used to love walking through the city with no destination, but I can't really do that anymore.
What makes someone a New Yorker? 
So many things. First, you can claim birthright: you can be born here and never raised here. Then there's attitude. You coulda been gone from New York for twenty years, but you still carry that attitude with you. But I look at it as knowledge of the city. I feel like I'm a New Yorker because I really know the city. I actually tell the drivers where to go — I have this bad habit, I always question the drivers. I do that all the time because I feel like I know the best way, when really it's like, "Yo, man, shut up. This dude does this every day of his life."