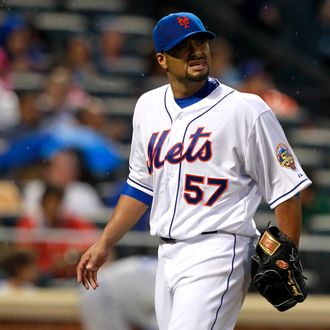 Grumble, grumble.
Photo: Mike Stobe/Getty Images
The Mets have had a relatively quiet spring training so far, in large part because there really hasn't been a lot to care all that much about. The only player anyone might care about, the newly signed David Wright, isn't even there, away playing in the WBC. Unless you really have a ton invested in which odd-duck outfielder is going to make the Opening Day lineup, it's easy to ignore the Mets camp. Generally speaking, this has been good: Usually any news with the Mets is bad news; all that bad news has been confined to Queens rather than Port St. Lucie. Until last night.
Johan Santana hasn't been a major part of Mets camp so far. He hasn't appeared in a game because he's been building up strength in his shoulder. (He didn't pitch for Venezuela in the WBC, though he wanted to.) This wouldn't be a big thing — he did have surgery eighteen months ago, and he's 33 years old — but he showed up to camp not quite in game shape and then started pushing a bit too hard to be ready. The Mets asked him to chill a little bit … and that appears to have not gone over well.
The Daily News reported — over Twitter, which still counts! — that Santana, who began throwing again the day after the Mets asked him to slow down, is "bitter" and "angry" at the Mets. Which means, once again, the Mets are in a tussle with one of their best, most expensive players.
Though we'll confess: It's hard not to take the Mets' side here. Santana has been throwing on a different schedule than the Mets had for him and, worse, not telling them about it, just a few weeks after showing up to camp not in game shape. This has made it increasingly unlikely that he'll be ready for Opening Day, not for nothing, considering that the Mets will be paying him $25.5 million this year. On one hand, you'd have liked the Mets to be on top of this situation from the get-go; on the other, Johan is a grown man, a multimillionaire, and shouldn't need his damn hand held all the time.
This is almost certainly going to be Johan Santana's last year in New York. Signed to a six-year, $137.5 million deal in 2008, Santana was never the dominant shutdown durable starter he was expected to be, but all told, the Mets probably should have never expected that in the first place. (Long-term contracts to pitchers, particularly those of Santana's build: bad.) His Mets tenure hasn't been a disaster or anything, and no one will be forgetting that no-hitter anytime soon. But at this rate, it's going to end badly. And this is where it feels like the Mets' fault even if it isn't, necessarily. The Mets just always seem to find a way to have this stuff end badly.