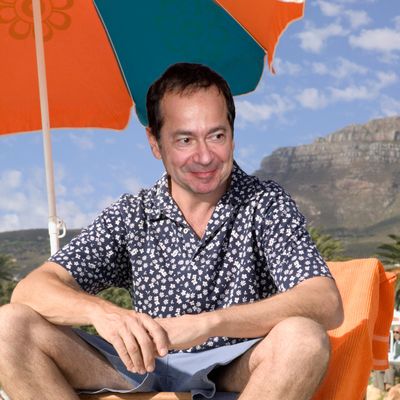 JP in his element.
Photo: PatrickMcMullan.com, Corbis
Last year, when John Paulson was having some financial troubles, we suggested that the billionaire hedge-fund baron take some time off. Kick his feet up. Get some sunshine on the ol' mug. Float around a crystalline pool on an inflatable chaise, drinking something out of a coconut.
We didn't mean that he should move to a tropical paradise permanently, in order to dodge hundreds of millions of dollars in capital-gains taxes. And yet, that's exactly what might happen.
Bloomberg reports that Paulson is mulling a relocation to San Juan, Puerto Rico, citing four people who have chatted with him about the possibility. Why San Juan? Well, because there's a "year-old Puerto Rican law that lets new residents pay no local or U.S. federal taxes on capital gains." And even with Paulson's recent troubles, the $9.5 billion he still has invested in his own funds means that he could save hundreds of millions of dollars a year in taxes while still technically remaining a U.S. citizen.
There are also some side benefits:
Paulson, 57, recently looked at real estate in the exclusive Condado neighborhood of San Juan, where an 8,379- square-foot penthouse, complete with six underground parking spaces, lists for $5 million. The area is home to St. John's School, a private English-language academy where he and his wife could send their two children, said the people, who asked not to be named because the discussions were private.
The timing of Paulson's potential move is odd. A lifelong New Yorker who went to NYU and grew up in Queens, Paulson has been making a play for the city's affections recently. He gave $100 million to the Central Park Conservancy last year, explaining that the donation was a result of his overflowing love for the city where he'd made his riches. "His grandparents had their first date [in Central Park] in the 1920s, his mother was pushed in a baby carriage there, and, later, she took him there in his own carriage as a youngster," the Times said.
But clearly, a too-high tax bill, coupled with all those pesky Occupy visits to his house, has made him rethink his local ties.
It's highly unlikely that Paulson, whose hedge fund is in midtown Manhattan, would pack up his entire crew and move them all to a waterfront trading cabana. (In fact, Bloomberg's sources say that Paulson and Company would stay in New York.) More likely is that he'd do something akin to the tax-avoidance scheme fellow hedge-fund billionaire Julian Robertson has pulled off with his Connecticut and New York homes — spending exactly the 183 days a year in Puerto Rico that the territory requires in order to claim residency, while spending the rest of the year shuttling off to New York and other global financial capitals. 
There's an additional snag in Paulson's plans, though. In order to claim Puerto Rican residency and collect his tax break, Paulson would have to "prove that a preponderance of his social and family connections" live there.
In other words, Paulson might be needing some friends in San Juan fairly soon. Puerto Ricans, now is your chance to succeed where we have failed.