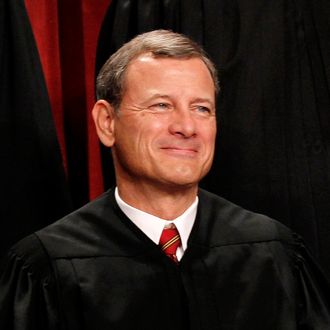 Photo: Pablo Martinez Monsivais
The fact that John Roberts has a cousin, Jean Podrasky, who is gay was first mentioned in a 2011 profile of the chief justice in Fortune, but at the time she didn't seem comfortable discussing his stance on marriage equality. Though Podrasky said she wanted the right to marry her girlfriend, all she would say about her cousin's position was, "I really would never disrespect him by asking him about his cases." While she still doesn't know what Roberts thinks about same-sex marriage, now she's more willing to put public pressure on him. The L.A. Times reports that when the Supreme Court hears arguments in two gay marriage cases this week, Podrasky and her girlfriend will be in seating reserved for Roberts' guests and family members.
Unfortunately for those trying to read the tea leaves on the chief justice's gay marriage stance, he didn't invite his cousin to the courtroom. Podrasky e-mailed Roberts's sister, who put her in touch with his secretary — though Roberts is aware that she'll be attending along with several other family members. While Roberts hasn't shared his thoughts on the issue with Podrasky, she expects the court to overturn Prop 8, allowing her to marry her girlfriend, who lives with her in San Francisco. "He is a smart man," she said. "He is a good man. I believe he sees where the tide is going. I do trust him. I absolutely trust that he will go in a good direction."
Podrasky also wrote a column for the National Center for Lesbian Rights that will be e-mailed to members on Monday. "Everyone in this country has a family member who is part of the lesbian, gay, bisexual, and transgender community … ," she writes. "As a Californian, I want nothing more than to marry my wonderful girlfriend. And as a tax-paying citizen, I seek basic fairness." Roberts will probably want to relax after listening to arguments on gay marriage for two days, but it sounds like he's getting an awkward family dinner instead.