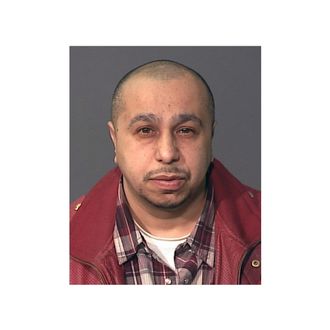 Julio Acevedo, the suspected driver in a Williamsburg hit-and-run that killed a 21-year-old Hasidic couple expecting their first child (and later, the baby boy, who briefly survived), is spending his day talking to the press instead of the police. A friend from prison set up the alleged driver — who witnesses said fled his mangled BMW on foot — on phone calls with the Daily News and ABC7, where he expressed his regret about the situation. "My heart goes out to them," Acevedo said. "I didn't know they died until I saw the news." That would be because he ran, but Acevedo says he had a good reason.
"I was speeding, trying to get away because I was scared from someone shooting at me," he explained. "The cab driver came out of nowhere and I couldn't stop." The 44-year-old — who has served time for manslaughter, drugs, guns, and was reportedly arrested for drunk driving last month — said he plans to turn himself in after speaking with an attorney.
The NYPD claims he was traveling at least 60 miles per hour when he struck the car carrying the recently married and expecting couple, Raizy and Nathan Glauber.