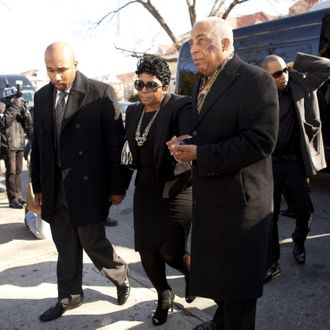 As protests over the police shooting death of 16-year-old Kimani Gray in Brooklyn earlier this month continue, Mayor Michael Bloomberg would like to offer his condolences to Kimani's mother, Carol Gray. But she's so uninterested in hearing from him, the mayor said she changed her phone number to avoid him. "I've tried, and the woman, the mother, is not taking any calls, changed her phone number so I can't, but I did reach out," Bloomberg said, according to the New York Times.
"We weren't interested in the photo op," Gray's lawyer, Kenneth J. Montgomery, told the paper. City Councilman Charles Barron, who is in touch with Gray, said the mayor's moment had passed. Bloomberg's office started trying to contact Gray late in the week after Kimani was shot on a Sunday. "He made some feeble attempts through other folks later on. But the mayor knows how to get in touch with people when he wants to."
Gray has taken at least one meeting with city officials, however: She sat down with Brooklyn prosecutors last week to hear about their investigation into the shooting. She was not impressed: "We're not pleased with the way they're handling their investigation and we want an independent investigation just so the truth comes out." Barron promised more demonstrations, at One Police Plaza, in East Flatbush, and at the Brooklyn District Attorney's Office, until the officers who shot Kimani were indicted.