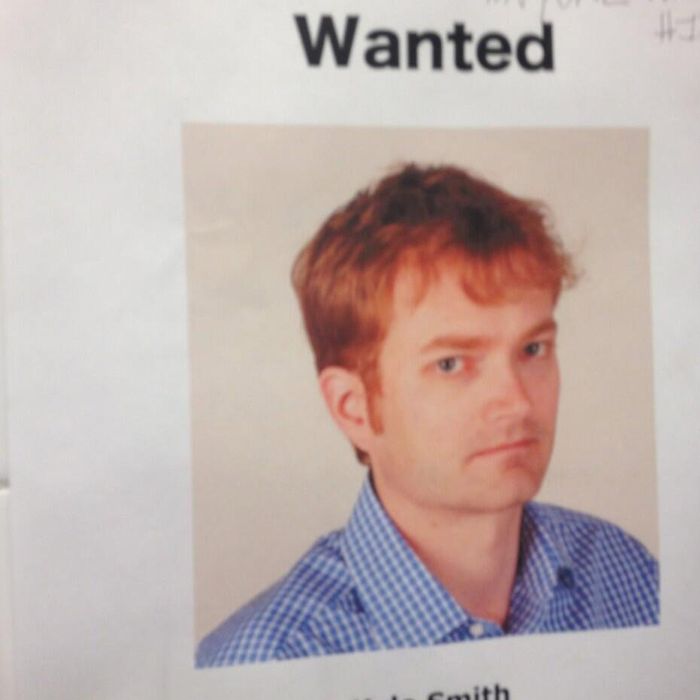 Photo: TextMeNot / Twitter
For at least a week now, homemade signs have been popping up on light posts and in subway stations around the city depicting a plain-looking man, Kyle Smith, who is apparently "wanted for douchebaggery." Although it could work as viral marketing for a Comedy Central show, the fliers are actually a form of analog trolling, most likely from some very angry Internet commenters, directed at Smith, a columnist for the New York Post. Reached today by phone, Smith said he assumes the campaign stems from an article he wrote and published two weeks ago hating on the New York City dining-out experience.
"Maybe waiters aren't used to being made fun of?" said Smith, who's on assignment at CPAC. "The target of a joke never finds a joke funny, I guess. Dick Cheney probably doesn't think Dick Cheney jokes are very funny."
So he doesn't dig the signs, then? "It's not very witty. Maybe they should keep trying or hire some comedy writers," he said.
Smith's initial offense was writing, "Waiters and waitresses at New York's self-consciously hot restaurants need to cool it a bit. I don't care how charming you are on your auditions. I'm not here to make friends. Frankly, garçon, I don't even need to know your name. […] You're a servant. So serve." The piece provoked a strong response online, including a barrage of hateful comments on his personal blog (including at least one that used the very specific term "douchebaggery").
"What can I say, I provoke strong reactions," Smith said this afternoon. "I haven't gotten any hate-mail on it today. Today's the first day the hate-mail dropped to zero, so I was feeling kind of lonely." He said he doesn't know who exactly is behind the signs, but shrugged off any real threat: "There's not much I can do about it," he said. "I'm not going to move to Cleveland."
"The whole thing's been amusing to me," Smith added. "It's like Mel Brooks as Torquemada in History of the World: Part I — if I can inflict a little bit of pain during the day, I sleep better at night. Call me Tabloid Torquemada."