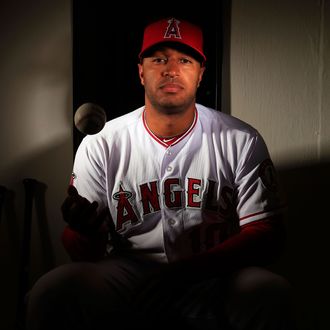 Vernon Wells.
Photo: Jamie Squire/Getty Images
The Yankees are reportedly on the verge of acquiring Vernon Wells, and the general consensus is that it's a desperation move. To which we say two things: (1) Duh, and (2) It's really not that big of a deal.
Forget the specifics for a moment and consider the basic scenario: You've got a team that suffered a series of injuries during spring training that's stretching thin a roster that already lacked depth. To fill one of those vacant spots, the team acquired a replacement-level player who won't have a dramatic impact on their long-term bottom line and will likely play a less significant role as the team gets healthier. It's pretty standard stuff.
It only seems like a juicier story because of the apparent intersection of two financial story lines: the Yankees' desire to get under the $189 million luxury tax threshold by next year, and Wells's atrocious contract. But the Yankees won't be hit with the full impact the contract: The Angels are reportedly picking up a huge chunk of his remaining salary, and, more significant, the Yankees will only be on the hook for a small part of his 2014 salary, which is the one that really matters to them. (The Daily News reports that the Yankees may even get a tax credit, depending on the breakdown of the deal.) The accounting is a total new-CBA-era move, but overall, it's pretty old-school Yankees: overpaying to fill a roster spot. Remember, it's not the money itself the Yankees care about these days; it's staying under the 2014 tax threshold. So for one more year, they can get away with overpaying someone like Wells, who will reportedly get between $10 million and $12 million from the Yankees in 2013.

Wells isn't likely to be very good for the Yankees — the Replacement Level Yankees Weblog rounded up his various 2013 WAR projections, and they range from 0.1 to 0.7 — but the Yankees (we hope) aren't fooling themselves into thinking he's going to regain the form that scored him that big contract in the first place. (Make no mistake, his numbers over his past two injury-plagued seasons aren't pretty.) We've read the arguments that he at least gives them a right-handed bat and might see a bump in his numbers playing at Yankee Stadium, but expectations are and should be low. Again, though, we're talking about what will ultimately be a fourth outfielder. The Yankees were never going to acquire a true impact player to temporarily start in the outfield, and it's not like the alternatives were especially attractive. "Yankees acquire Vernon Wells" is an attention-grabbing headline, but in context — for what they're asking of him — it's not all that bad. It's not necessarily good, mind you — just not all that bad.