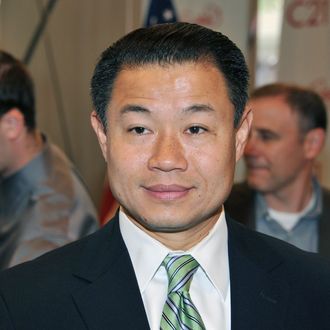 Photo: Slaven Vlasic/Getty Images2011 Getty Images
While kicking off his campaign for mayor on Sunday, City Comptroller John Liu dismissed the federal criminal investigation into his fund-raising that took down two of his associates, calling it a "witch hunt." "When you go after powerful people and rich corporations, they're going to come after you," he said. "They have certainly made my life challenging. But let me be clear — we are not backing down." Unfortunately for Liu, journalists aren't backing down either.
Liu's ten-minute speech at City Hall had a populist theme, suggesting that only the wealthy are getting ahead under Mayor Bloomberg. "In New York City these last twelve years, the rich keep getting filthy rich and far too many New Yorkers can't even think to get ahead because they're struggling just to get by," he said.
The New York Times reports that, when Liu wrapped up his remarks, "Virtually every question was about the federal investigation into his fund-raising." Reporters also wanted to know why Liu declared, "My mom spent years in a sweatshop, where I often had to pitch in to make ends meet," when the Daily News has debunked that story as "an exaggeration at best, an outright lie at worst." Liu's mom said she worked from home on a knitting machine, and he would get an allowance for helping her. When asked why he's still contradicting his parents' version of events, Liu responded, "It's an important part of my history. It's an important part of my past."