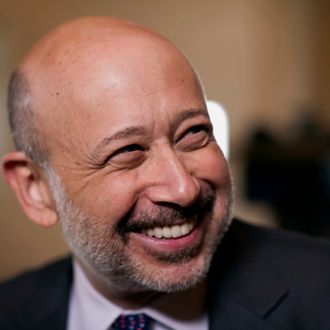 Let it GROW, Lloyd.
Photo: Bloomberg
We here at Daily Intelligencer are an optimistic people. And so, when news emerged that Goldman Sachs CEO Lloyd Blankfein was growing a beard — bucking all Wall Street sartorial trends in the process and setting himself apart from his clean-shaven C-suite peers — we held out hope that he would exhibit patience with it, and that eventually the beard would progress from light stubble to moderate stubble to respectable, Ben Affleck–in-Argo length, and, finally, to the full Grizzly Adams.
We're getting there. Last night, Blankfein showed up at a charity fund-raiser sporting a groomed, fluffy beard that made him popular with the ladies.
According to Bloomberg:
Lloyd C. Blankfein nuzzled his beard against the cheeks of two ladies last night, Dina Powell, Goldman Sachs Group Inc. (GS)'s head of corporate engagement, and Liz Robbins, a Democratic lobbyist.

"I was proving to women everywhere that it's really soft, not coarse," said Blankfein.
While Blankfein's furry chin was presumably the highlight of the evening's festivities, we also got some details about the fashion choices of the CEO's younger days, straight from a college friend, fellow moneyman Dick Cashin.
"In college, he was fat with big curly hair, and he was very funny," Cashin said.

"I was not fat. I did have curly hair," Blankfein said.
According to Bloomberg, Blankfein's wife Laura is currently going through old Blankfein family photos in advance of their 30th wedding anniversary later this year. Mrs. Blankfein, if you find any shots of your husband in his huskier, hairier days while you're digging, you know where to find us.