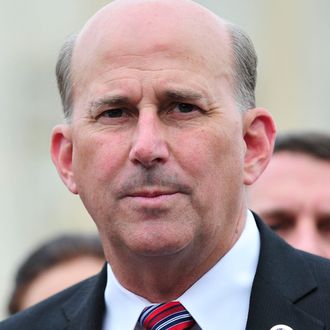 Honorary member of the National Park Service.
Photo: Ron Sachs/(C)2010 Ron Sachs Consolidated News Photos All Rights Reserved
May 24, 2006:
"No one is above the law." —Texas GOP congressman Louie Gohmert, referring to illegal immigrants.
March 27, 2013:
"A Texas Republican congressman got into a late-night verbal altercation with U.S. Park Police officers earlier this month, pulling rank in an attempt to get out of a parking ticket near the Lincoln Memorial." —Politico report on Gohmert's refusal to pay for a parking ticket, which he was given for parking in a spot reserved for the National Park Service during a visit with his family to the Lincoln Memorial.