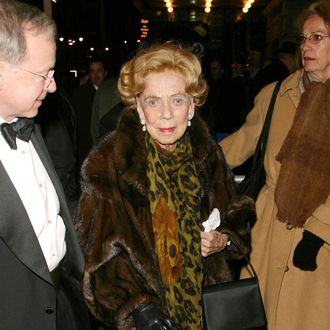 Photo: Peter Kramer/Getty Images
Brooke Astor's son has been called a lot of things over the years, and "inmate" may soon be another. Despite his lawyer's best efforts, the Manhattan Appellate Division ruled today to uphold all but one of Anthony Marshall's 14 convictions for "looting his philanthropist mother's $185 million fortune," according to the Daily News. He's also not getting rid of the grand larceny conviction from October 2009, which comes with a mandatory prison sentence.
In a unanimous decision, the appeals panel said:

"The record amply supports the jury's determination that defendants are guilty of a scheme to defraud Mrs. Astor by fraudulently changing her will via the codicils at a time when they knew her physical and mental condition precluded her from having the capacity to agree to any such changes."
Spokeswoman Erin M. Duggan of the Manhattan DA's office added:
"Today the Appellate Division overwhelmingly upheld the 2009 trial convictions of Anthony Marshall and Francis Morrissey, including the top count against Marshall, grand larceny in the first degree. The court also rejected Marshall's argument that he should be spared the charge's mandatory prison sentence. This trial underscored the importance of prosecuting elder abuse, particularly financial fraud perpetrated by those close to the victims. In the words of the appellate court, 'the record amply supports the jury's determination that Marshall committed a series of larcenous acts."
The only count to be thrown out was the second-degree grand larceny against Marshall, which involved a secretary employed by Astor do tasks for a theater production company Marshall was operating out of her apartment. Bloomberg News reported that the court didn't constitute that a crime.
We've long been covering the affairs of the historic Astor family, and they may not be over - Marshall's attorney John Cuti told the New York Post they are "reviewing the decision carefully and reviewing all of Mr. Marshall's options" as he faces between 1 and 3 years behind bars.