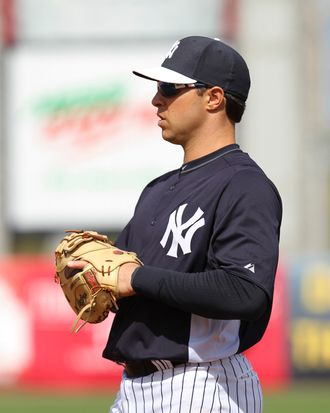 02 March 2013: Yankees first baseman Mark Teixeira (25) during the spring training game between the Detroit Tigers and New York Yankees at George M. Steinbrenner Field in Tampa, FL.
Photo: Icon SMI/?Icon Sports Media Inc. (Icon SMI) All Rights Reserved contact: sales@iconsportsmedia.com http://iconsportsmedia.com
That Mark Texieria wrist injury that the Yankees hoped would sideline him for only two weeks? Turns out, it's a strained wrist that will keep him out for eight to ten weeks. In case you were wondering, they prefer to keep newcomer Kevin Youkilis — who has played both corners — at third, and find someone else to play first. As has been pointed out elsewhere, with Alex Rodriguez and Curtis Granderson also hurt, the Yankees will now start the season with over $60 million on the DL — or almost twice the entire Houston Astros payroll.