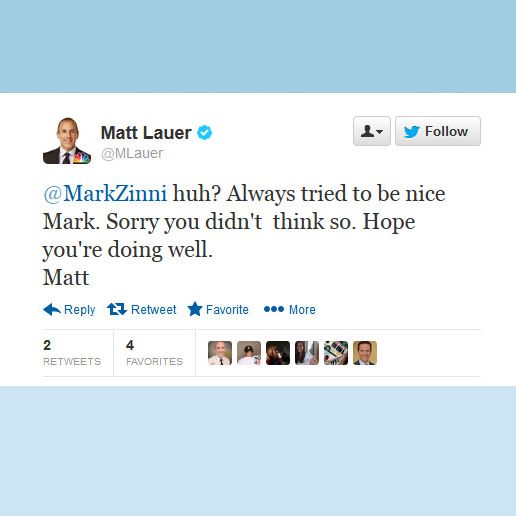 It's been a tough week for Matt Lauer. After Joe Hagan's cover story on the dysfunction at Today, the gossip and speculation about Lauer's struggles have gotten so bad that someone called him the new Ann Curry. Lauer's stock was so low, in fact, that a former intern, apparently holding a grudge for all these years, felt comfortable enough to pile on and go public with the fact that the Today host was "not so nice" when he "was just a young kid with a bright future ahead of me." Lauer, who's taken the week's shots with mostly stoic silence, finally spoke up.
Here's how it all started:
For some reason, Lauer thought it necessary to respond, perhaps in hopes of salvaging what's left of his reputation as a genial Everyman. (If the apology above means he reads his @-mentions, then it's been a harder few days than we even realized.) On the other hand, Mark Zinni, the intern in question and now an anchor and reporter for Fox 8 in Cleveland, is loving it:
We might be Team Lauer on this one.
Update: Zinni has addressed the situation on the Fox 8 website: "If you know me, you probably know that I don't take myself too seriously. … I didn't slam the guy, I just made an honest comment," he writes. "Bottom line, I was shocked Matt Lauer even bothered with me and, really, he remembers me? I'm flattered."