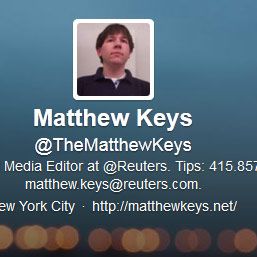 Matthew Keys, the deputy social media editor at Reuters and a relentless TIME-recognized Twitter machine, was indicted today for allegedly conspiring with the hackers in Anonymous to take over the Los Angeles Times website when he worked for the paper's parent Tribune Company in 2010, the Department of Justice announced. The 26-year-old was then a producer for a Fox affiliate in California, but has since gone on to build his name as a journalist online, collecting more than 23,000 followers, many of whom are quite shocked (and exhilarated) by the news he might have committed a crime.
Here's the DOJ (and the full indictment):
The three-count indictment alleges that in December 2010 Keys provided members of the hacker group Anonymous with log-in credentials for a computer server belonging to KTXL FOX 40's corporate parent, the Tribune Company.  According to the indictment, Keys identified himself on an Internet chat forum as a former Tribune Company employee and provided members of Anonymous with a login and password to the Tribune Company server.  After providing log-in credentials, Keys allegedly encouraged the Anonymous members to disrupt the website.  According to the indictment, at least one of the computer hackers used the credentials provided by Keys to log into the Tribune Company server, and ultimately that hacker made changes to the web version of a Los Angeles Times news feature.

The indictment further alleges that Keys had a conversation with the hacker who claimed credit for the defacement of the Los Angeles Times website.  The hacker allegedly told Keys that Tribune Company system administrators had thwarted his efforts and locked him out.  Keys allegedly attempted to regain access for that hacker, and when he learned that the hacker had made changes to a Los Angeles Times page, Keys responded, "nice."
In his capacity as a member of the media, Keys has not shied away from discussing Anonymous, serving as a source and identified as "a journalist who infiltrated the group" in this behind-the-scenes Gawker story. He also wrote about the shadowy group himself:
Keys was called out by former Anonymous member turned government informant Sabu, the subject of this New York profile, for being complicit with the hackers back in 2011:
Sabu, a.k.a. Hector Xavier Monsegur, was due for sentencing last month but had his hearing postponed because he was still cooperating with authorities.
Keys foreshadowed work troubles in a Gchat with a friend last night, but was tweeting, as he does, right up until the indictment was announced.
Update, 8:20 p.m.: Keys responded to the indictment on Twitter.
However, a source in contact with Keys this evening tells Daily Intelligencer that Keys said he knew of the indictment before it was made public. Keys also told the source his job at Reuters is "fine."
Keys did not immediately return a request for comment.
Reuters said it is aware of the indictment and is investigating, according to Politico. The statement did not address Keys's employment status or the Justice Department's specific allegations, saying that "while investigations continue we will have no further comment."

Keys faces a maximum of 25 years in prison and $750,000 in fines for all three counts.
Update, 11:05 p.m.: Reuters's own story on Keys's indictment cites an unnamed Thomson Reuters employee who worked with him, who "said that his computer was being dismantled and that his security pass had been deactivated."