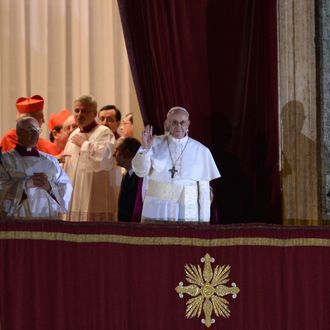 Hi, it's me, the Pope.
Photo: AFP/Getty Images
1. He's Argentinian, making him the first pope from South America (or anywhere in the Western hemisphere).
2. He's the first Jesuit Pope.
3. He was the first Jesuit archbishop of Buenos Aires.
4. He has taken the name Pope Francis. (Update: Not Francis I yet. "It will become Francis I after we have a Francis II," the Vatican said.) It's the first time a new pope has taken a name that hasn't already been used by a former pope since Pope Lando in 913.
5. He's 76 years old.
6. He's the son of Italian immigrants.
7. He speaks Spanish, Italian, and German.
8. He was the runner-up to the papacy at the 2005 conclave, according to the diary of an anonymous cardinal,* but lost, obviously, to Cardinal Ratzinger.
9. He only has one lung. The other was removed during childhood after becoming infected.
10. He called Argentina's legalization of gay marriage in 2010 a "destructive attack on God's plan."
11. He argued that gay adoption would "discriminate against children."
12. Gave a speech in 2012 "accusing fellow church officials of hypocrisy for forgetting that Jesus Christ bathed lepers and ate with prostitutes."
13. Is a fan of opera and San Lorenzo's soccer team.
14. Takes public transportation and lives in a modest home.
15. Cooks his own food.
16. Goes to bed at 9:30 p.m. and wakes at 4:30 a.m.
17. Refuses to grant interviews.
18. His "critics say he did not take a strong enough stand against Argentina's 1976-83 military dictatorship," but he "in 2000, he led an effort by the church seeking public forgiveness for its inaction."
19. Was accused by a human rights lawyer in 2005 of being complicit in the kidnapping of two priests by Argentina's military dictatorship in 1976. The priests "surfaced five months later, drugged and seminude, in a field outside Buenos Aires." The AP reported that, "according to some accounts, Bergoglio was instrumental in winning freedom for the men." Bergoglio denies any wrongdoing.
20. Prior to the 2005 conclave, an e-mail chain claimed that Bergoglio "never smiled."
21. Is a critic of the International Monetary Fund and free-market capitalism for contributing to poverty.
22. Demanded that an art exhibit that "depicted images of Catholic saints, Jesus Christ and the Virgin Mary in a blender, an electric toaster and a frying pan, among other unconventional settings" be shut down, calling it "blasphemous."
23. Harshly criticized pastors who refuse to baptize the children of single mothers.
24. He "visited a hospice to kiss and wash the feet of 12 AIDS patients" in 2001.
25. Used to tango with his girlfriend before he "discovered [his] religious vocation."
This post has been updated with additional Pope Facts.
*The diary was written by an anonymous cardinal, not an anonymous pope. That would make no sense.