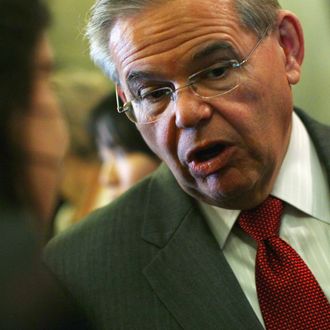 Photo: Win McNamee/Getty Images
Senator Bob Menendez has been the subject of various allegations regarding his doctor friend/donor Salomon Melgen, and now the situation has taken a more serious turn. Three sources tell the Washington Post that a federal grand jury in Miami is investigating Menendez over his intervention on behalf of Melgen's business interests. Aside from failing to disclose flights on Melgen's private plane, the senator tried to help Melgen's company secure a port security contract in the Dominican Republic and spoke to federal health officials regarding the investigation into the doctor allegedly overbilling Medicare.
Since the fall, the FBI has been looking into reports that Melgen flew Menendez to the Dominican Republican and hooked him up with prostitutes. Sources say agents have found no evidence to support this, and that particularly allegation now seems less credible (depending on whether you trust the Daily Caller or the Washington Post).
On Thursday, Menendez wouldn't say whether he was aware of the grand jury investigation, but he continued to insist that he's merely the victim of a political attack. "I welcome any review, because I believe, at the end of the day, that my actions have been appropriate," he said. "And just as everything that gave rise to this was a smear campaign based on slanders that drove the original story, I believe that when any review reviews the facts, they will determine that I have acted appropriately at all times."