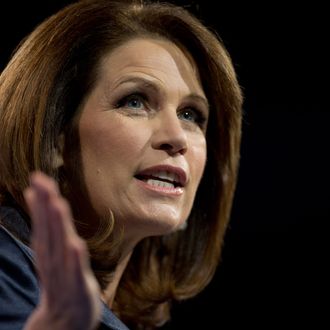 Photo: Carolyn Kaster/AP/Corbis
Michele Bachmann's briefly overachieving but always doomed presidential campaign is now the subject of an investigation by the Office of Congressional Ethics, the Daily Beast reports today. Ex-staffers — and there are a lot of them, as Bachmann boasts a 46 percent turnover rate as a congresswoman, with her campaign following a similar pattern — are being asked about potential campaign finance violations that could be passed on to the House Ethics Committee. While Bachmann's attorney denies "any wrongdoing" on her part,  some disgruntled former employees are using the probe as an excuse to undermine her entire existence:
"She doesn't use the most credible sources," explains one former staffer, detailing Bachmann's reliance on stories from the conspiracy-peddling WorldNet Daily to shape her worldview, "and she tends to listen to the last person who talks to her." […]

"She's always been one of the most difficult members to work for – very high maintenance, almost demeaning to a point," says another former staffer. "And that was amplified ten times over due to the presidential campaign. It was like she was a different person. You didn't recognize her. All I can tell you is that it was the weirdest thing I've ever seen. It was by far the most bizarre campaign I've ever been a part of." […]

"A lot of hearts were broken, a lot of lives were hurt by the behavior of the senior staff of the Bachmann campaign," says[Peter Waldron, an evangelical operative and ex-staffer with ongoing claims against her]. "She's entangled in a cyclone. She can't get out."
And all for a single delegate.