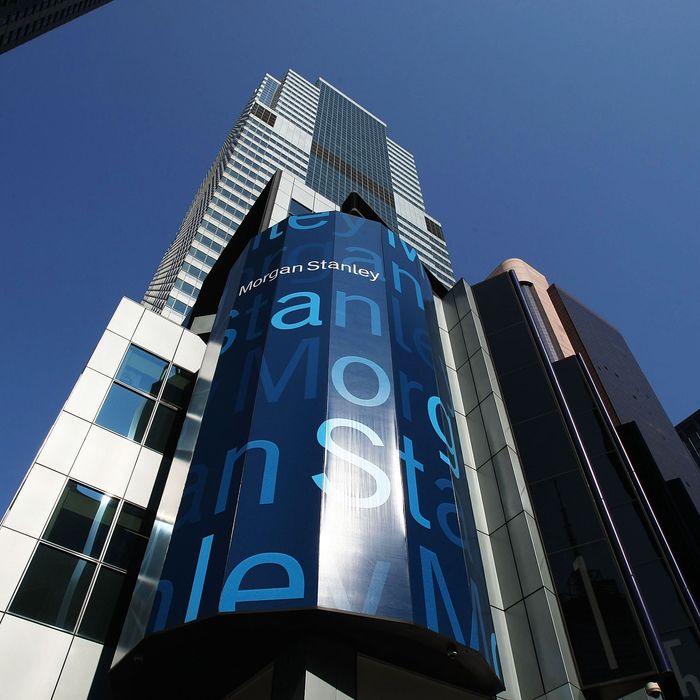 Photo: Mario Tama/Getty Images
Morgan Stanley, the powerful Wall Street investment bank, has been sued by an African-American employee who contends that the firm paid him less than his peers and refused to give him recognition for his work on prominent deals because of his race, Daily Intelligencer has learned.
Dabotubo Horsfall, a vice-president in Morgan Stanley's investment management infrastructure fund, sued the bank and seven of its senior managers, accusing them of subjecting him to "blatant discriminatory treatment on account of his race." The lawsuit was filed in New York Supreme Court on February 11, but went unnoticed outside the bank for more than a month.
Horsfall, 34, who has worked in Morgan Stanley's New York headquarters since August 2010, alleges in the suit that he was deprived of compensation and other benefits given to non-minority employees at the firm. Horsfall claims that he "consistently met all of his goals" and "diligently performed all of his work" at the firm, but was "discriminatorily undermined" by his supervisors despite his performance. He is seeking unspecified damages.
A Morgan Stanley spokesman, Matt Burkhard, said in a statement, "Morgan Stanley does not tolerate discrimination based on race or any other factor. We do not comment on pending litigation."
Horsfall's complaint [PDF] alleges that in November 2011, his boss left the division, and Horsfall was put under the supervision of two managers, John Watt and Thomas Gray, who proceeded to discriminate against him based on his race. Horsfall claims to have helped close a deal involving the sale of a Chilean electric distribution company that made Morgan Stanley more than $150 million in profit, but was "never properly acknowledged nor was he properly compensated for his work on this complex transaction" by Watt and Gray. Furthermore, Horsfall alleges he was not given a year-end written evaluation that year, and was not given any credit for his involvement in the Chilean deal during a face-to-face review with Watt.
Horsfall was expecting a bonus of more than $500,000 that year, according to the suit, but was given only $190,000. In 2012, Horsfall claims, his bonus was reduced by almost $30,000, and he was denied a promotion.
"We believe he's been underpaid. We believe he's been denied benefits," Horsfall's lawyer, Derek Sells, said on Friday. "He's being compensated differently than people who have the same background and responsibilities."
Since his disappointing bonus, the suit contends, Horsfall has been subjected to additional punishment at Morgan Stanley, including being excluded from lunches with his team, and having supervisors "refuse to put him on accounts for which he is an expert," such as a project dealing with parking garages in Chicago. He claims to have approached senior executives at the firm with his complaints, including CEO James Gorman, but characterized these meetings as "futile." Gorman is not among the managers named in the suit.
Horsfall is being represented in the case by Sells, a partner at the Cochran Firm, the law firm founded by attorney Johnnie Cochran, who was best known for representing O.J. Simpson in his 1995 murder case. Cochran died in 2005.
Wall Street banks have been targeted by racial discrimination claims in the past. In 2007, Bank of America was sued by five African-Americans on its staff, claiming systematic bias. And last year, lawsuits were filed against Bank of America and Cantor Fitzgerald by former employees who alleged that they lost out on financial opportunities and were harassed because of their race.
On Friday, Horsfall's lawyer told Daily Intelligencer that his client was being subjected to further harsh treatment as the result of the lawsuit he filed.
"Morgan Stanley has taken further retaliatory actions, and threatened to fire him on more than one occasion," Sells said. "The discrimination and retaliation has worsened. And we intend to pursue all of Mr. Horsfall's remedies under the law."