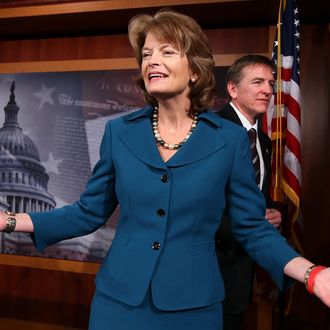 Lisa Murkowski.
Photo: Alex Wong/2011 Getty Images
Lisa Murkowski isn't the second Republican senator to endorse gay marriage, but she wants people to know that she could be. "The term 'evolving view' has been perhaps overused, but I think it is an appropriate term for me to use," the Alaska senator told the Chugiak-Eagle River Star, adding, "I think it's important to acknowledge that there is a change afoot in this country in terms of how marriage is viewed." 
Like many who've switched their stance on same-sex marriage, Murkowski said her children made her reconsider. "I've got two young sons who, when I ask them and their friends how they feel about gay marriage, kinda give me one of those looks like, 'Gosh mom, why are you even asking that question?'" she said. However, voters can rest assured that her sons' inherent belief in equality won't necessarily be the deciding factor. She told the paper that her position may depend on the feedback she gets from constituents. The state passed an amendment in 1998 defining marriage as between one man and one woman, so Senator Rob Portman might be alone on this one for quite some time.