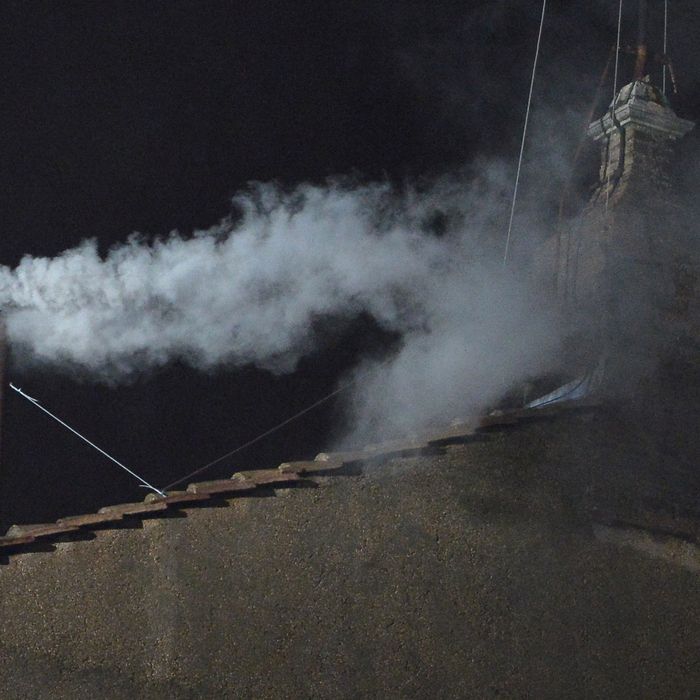 Photo: Alberto Pizzoli/AFP/Getty Images
The special Vatican chimney started pouring white smoke just after 2 p.m. ET, signaling to the world that the 115 cardinals locked inside the Sistine Chapel have selected a new leader for the Catholic Church. An announcement is expected from the balcony at St. Peter's imminently.
Update: And the winner is … Cardinal Jorge Mario Bergoglio of Argentina. After more than an hour of anticipation, during which the new pope likely dressed and prayed, Cardinal Jean-Louis Tauran announced that Bergoglio, a 76-year-old Jesuit, will be known as Pope Francis. (Not Francis I yet, as the Vatican later clarified: "It will become Francis I after we have a Francis II.")

Update II: Get used to this face:
Update III: "You know the task of the conclave was to give Rome a bishop," said Bergoglio in his first address as pope. "My brothers went to the end of the earth to get him." Here he is on the balcony: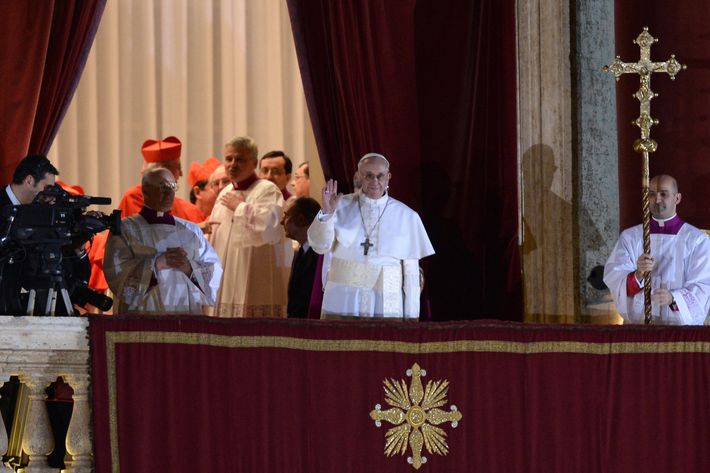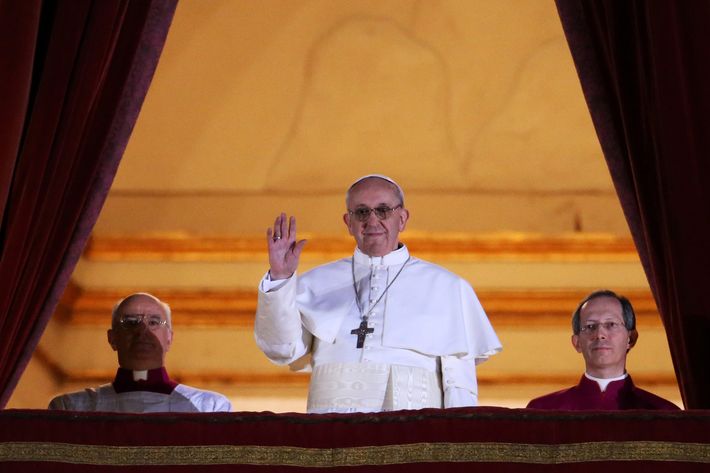 Update IV: Now it's really official:
Pray for the person who has to teach him Twitter.
Update V: The big moment, as presented by Fox News:
Update VI: The somewhat shaky speech:
Update VII: Barack Obama's statement on Pope Francis:
On behalf of the American people, Michelle and I offer our warm wishes to His Holiness Pope Francis as he ascends to the Chair of Saint Peter and begins his papacy. As a champion of the poor and the most vulnerable among us, he carries forth the message of love and compassion that has inspired the world for more than two thousand years—that in each other we see the face of God. As the first pope from the Americas, his selection also speaks to the strength and vitality of a region that is increasingly shaping our world, and alongside millions of Hispanic Americans, those of us in the United States share the joy of this historic day. Just as I appreciated our work with Pope Benedict

XVI

, I look forward to working with His Holiness to advance peace, security and dignity for our fellow human beings, regardless of their faith. We join with people around the world in offering our prayers for the Holy Father as he begins the sacred work of leading the Catholic Church in our modern

world.