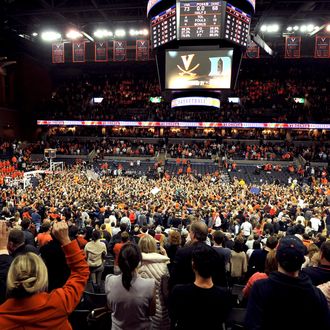 It's fun to beat Duke.
Photo: Lance King/Getty Images
Last night, after an upset victory by their beloved Virginia Cavaliers over the Duke Blue Devils, fans at John Paul Jones Arena stormed the court. This is commonplace in college basketball — it's happening almost once a night — and it's definitely commonplace when someone beats Duke; the Blue Devils have lost four games this year, all on the road, and every single one of them has featured the opposing team's fans rushing the court. Duke coach Mike Krzyzewski has finally had enough.
After the game, Krzyzewski concern-trolled a bit about all the court-storming.
"Look, do you know how close you are to — just put yourself in the position of one of our players or coaches," Krzyzewski said, according to the Raleigh News & Observer. "I'm not saying any fan did this, but the potential is there all the time for a fan to just go up to you and say, 'Coach you're a [expletive],' or push you or hit you. And what do you do? What if you did something? That would be the story. We deserve that type of protection. I'm always concerned about stuff like that, especially at this time of the year. What if that happened and we get a kid suspended? That becomes the national story. It's not all fun and games when people are rushing the court, especially for the team that lost. Again, congratulations to them, and they should have fun and burn benches and do all that stuff. I'm all for that. They have a great school, great kids, but get us off the court. That's the bottom line."
On one hand, Kryzyzewski is right: Fans (students, mostly) are right on top of the players by nature in college basketball — it's one of the things that makes it so fun — so when there's a court-storming, it gets real tight real fast. On the other: Usually when people "express concern" about court storming, it's because they're afraid someone will get hurt. Coach K's concern is less that and more "one of my guys is gonna punch one of those fans someday." Which would indeed be quite the story.
Whenever a coach or a player says something like this, it brings out all the discussions about when it's appropriate to storm the court, if ever. And certainly not all court-stormings are created equal. Last night, the outcome of the game was assured, so the last minute simply featured students maneuvering themselves into proper court-storming position. Watch as the Virginia fans get into formation as the seconds tick off.
This is a less desirable court-storming to some; some would prefer it only happen when it's a spontaneous explosion of joy, like when my Illinois Fighting Illini beat No. 1 Indiana earlier this year.
Some would like to set down specific rules of court-storming, like this handy list from College Basketball Talk. (Sample: "VII. You cannot storm the court if you began the season ranked in the top fifteen, fall out of the top 25 and then defeat a ranked team. VIII. You can storm the court if you defeat an undefeated team by any margin, and that undefeated team has completed at least 50 percent of their schedule and is ranked ahead of you.") And some would like to not see any court-storming at all because it is potentially dangerous, which is certainly true, though wheelchair-bound Will Privette made it just fine at the NC State game earlier this year. (And had a helluva time.)
But all of those people are wrong. There are no rules about court-storming, and there should not be, because it is done by drunk college students who are having a crazy, stupid, reckless good time. You know, they're in college, enjoying themselves before the real world grinds them down like it has the rest of us. As Privette described his court-storming: "It was the dumbest thing I've done in college but it was awesome. … I was like, 'This more than likely is going to go really bad.' But I think it was better than I thought. The back of my wheelchair kind of got, I guess, broken a little bit so I have to look into that. But I don't regret it at all." They are college students. They are, ostensibly, who this game is for. They are going to rush the court because it is really fun and immature and pointless and awesome. Who cares what Coach K thinks, or I think, or college administrators think? It's their game. It's college: This situation absolutely requires a really futile and stupid gesture be done on somebody's part. Nobody cares what the rest of us think. We all love college basketball, but it is not for us. So we should probably just shut up … and get out of the way.