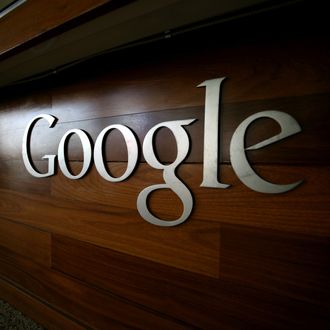 Photo: Kimihiro Hoshino/AFP/Getty Images
Digital cries of semi-ironic anguish went up last night when Google announced it is "powering down" the RSS product Google Reader, which will cease to exist in July. Oh, you use Reader? That sucks. (Also, you're a nerd.) New rule: You get one tweet to memorialize how much it meant to you and then you have to stop complaining because you're being annoying.
As a blogger this might be blasphemy, but the online echo chamber when beloved products, however esoteric, change or shut down is out of control. Worse, it might convince us, through repetition, that these things matter. Regardless of what your social media circles might indicate, the universe will not mourn Reader because the amount of people whose job (or even hobby) it is to consume and process news is actually minuscule. Thankfully.
The world is not made up of bloggers and journalists and GIF-makers, but of moms and uncles and little sisters with real jobs whose eyes glaze over at headlines like, "Google Reader's Death Is Proof That RSS Always Suffered From Lack Of Consumer Appeal." But the point stands and Google said it as well: Despite a "devoted following," the fact is "usage of Google Reader has declined, and as a company we're pouring all of our energy into fewer products."
Is Reader a useful tool? Sure, or it was before Google started gutting it in 2011, and a well-manicured group of Twitter lists became the ideal way to track news and opinion in real time. The simple aggregation and streamlining of information provided by Reader is perfect for voracious readers, but there are no shortage of startups catering to that subset. There are alternatives and there will be more, and you'll end up loving at least one, I promise.
Google, on the other hand, is not in the business of being a blogger toolbox, because that doesn't sound very lucrative. It is a business, a massive public company, that has no incentive to cultivate and maintain niche fan favorites for an overly vocal audience. (Isn't that how you all ruined Community? I don't care about that either.)
And yes, Google Glass looks kind of lame and Google+ is a cluttered mess that may very well end up in the basket with all the broken eggs, but the cool thing about the Internet is that if none of us use those things, because they're not good, eventually they'll abandon them too. If and when that day comes, some will bitch and some will innovate and some will not even know they should be shrugging. And the world will spin.