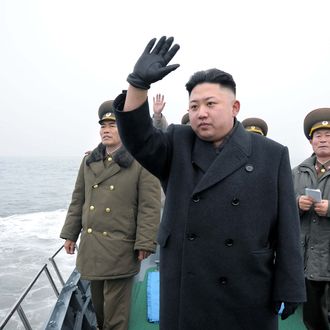 In a photo taken last week, Kim Jong-un stands on a boat and menaces South Korea.
On Monday, South Korea and the United States began their annual war games and North Korea responded by following through on some of its latest threats. Thankfully, Seoul hasn't been turned into a "sea of flames" and there are no nuclear weapons hurdling toward the U.S., but the country cut off its hotline with South Korea on Monday and announced in the state-run newspaper that the 1953 armistice agreement that ended the Korean War is no more. "Today, on March 11, the armistice agreement is annulled," said the paper. "Every citizen is a soldier."
The 11-day war games involve 10,000 South Korean and 3,000 American troops, and both countries insist that the drills are routine and defensive. According to the Associated Press, North Korea regularly claims the drills are preparation for an invasion, but relations between the nations are more delicate than they've been in years, with the U.N. voting to impose new sanctions last week in response to North Korea's nuclear test last month.
The start of the drills provoked an anti-war demonstration near the U.S. Embassy in Seoul, but increased tensions have left other South Koreans talking about strengthening their military position. The New York Times reports that while it's long been taboo to call for South Korea to develop its own nuclear arsenal, some politicians and columnists have been pushing the idea, and polls show two thirds of South Koreans agree. Experts say it's unlikely that South Korea would acquire nuclear weapons anytime soon, and such talk is just an expression of fears about the reliability of the United States.
Scientists are still trying to determine the current state of North Korea's nuclear program, but it's expected to respond to the war games by launching its own military drills, or possibly even a small skirmish. As the Times notes, it's unclear what disregarding the 1953 armistice will entail. One thing we do know is that it's going to be a lot harder for Dennis Rodman to set up a call between President Obama and Kim Jong-un if his young dictator friend isn't answering the phone.