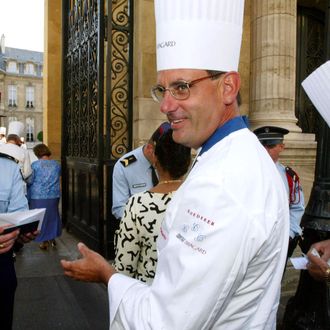 Walter Scheib in 2003.
Photo: MEHDI FEDOUACH/2003 AFP
Last week, the Daily Caller reported that, according to Senator Susan Collins herself, President Obama couldn't eat a delicious-looking lobster salad at a meeting with senate Republicans because his taster wasn't around. "He honestly did look longingly at it, but apparently he has to have essentially a taster," Collins said, "and I pointed out to him that we were all tasters for him, that if the food had been poisoned all of us would have keeled over."
Kind of a funny story, or an outrageous example of Obama's egotistical self-regard? The right wing went with the latter.
"A food taster? It is good to be king," Tucker Carlson said on Fox News on Friday, adding that the taster's existence was a "remarkable fact" and that "you're paying for it."
The conservative website Mr. Conservative declared that the story wouldn't surprise "those who have suspected that Barack Obama sees himself more in the role of a King than a President," while Gateway Pundit snorted, "His royal highness wouldn't touch the food at the GOP luncheon" because he "didn't bring along his royal taster." Lucianne Goldberg, the literary agent who told Linda Tripp to secretly record Monica Lewinsky (also, the mom of Jonah), was aghast that the Media was just going to let the story "go unquestioned."
As offensive and scandalous as the right-wing peanut gallery would like to make the episode appear, the tiniest bit of research would have revealed that Obama is hardly the first president to have his own taster. Though the Secret Service, understandably, doesn't like to talk about it, this Snopes summary shows that every president since at least Ronald Reagan has had one. A 2001 Times story refers to them as "Navy mess specialists who travel around the world with the president."
To Walter Scheib, who served as the White House executive chef from 1994 to 2005 under both Bill Clinton and George W. Bush, the president's use of a taster could not be less of a big deal.
"It makes sense to me," Scheib tells Daily Intelligencer. "When you're in an uncontrolled situation, regardless of whether it's a senator's home or Ray's Hell Burger — wherever the president may be — the Secret Service is not big on uncontrolled situations. And they will do everything they can within reason and sometimes outside reason to narrow that window of opportunity or danger."
Schieb was careful not to reveal too many details about the tasters, but he knew them well, and he thinks people are getting the wrong impression.
"They do more — let's not characterize this as some kind of Medieval court food taster. That's not the case," Scheib scoffed. "These folks have a number of different duties and responsibilities, one of which is to be sure that the president doesn't get poisoned, quite honestly. "
Considering the long history of presidential tasters — or whatever you want to call them — Scheib finds the criticism of Obama absurd.
"Suffice it to say that the president's not out there by himself and this is not something Obama invented," Scheib says. "This is a practice and a procedure for the president which is, frankly, a little bit of a pain."