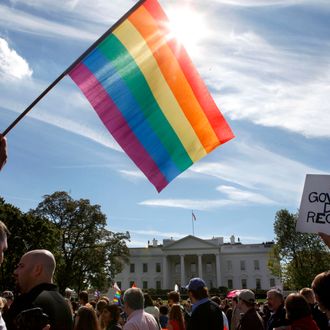 When he announced that he'd "evolved" on the issue of gay marriage last year, President Obama added that he still thinks it's an "issue that is going to be worked out at the local level, because historically, this has not been a federal issue, what's recognized as a marriage." However, now the Obama administration is challenging the idea that states are free to ban same-sex marriages. Though the administration wasn't required to weigh in, on Thursday it urged the Supreme Court to strike down California's Proposition 8, arguing that it violates the Constitution's equal protection clause.
The friend-of-the-court brief filed by the justice department, which "had President Barack Obama's personal input and blessing" according to CNN's sources, stops short of the full embrace of a federal right to same-sex marriage that gay rights activists have been hoping for. Instead, its argument hinges on the fact that California, like seven other states, already allows domestic partnerships that are marriages in all but name. "California's extension of all of the substantive rights and responsibilities of marriage to gay and lesbian domestic partners particularly undermines the justifications for Proposition 8," the brief says. "It indicates that Proposition 8's withholding of the designation of marriage is not based on an interest in promoting responsible procreation and child-rearing — petitioners' central claimed justification for the initiative — but instead on impermissible prejudice."
The argument is similar to the one made in the brief submitted last week on the Defense of Marriage Act. While the DOMA ruling will only determine if the federal government can discriminate against same-sex couples that are legally married, the Proposition 8 case could allow the Supreme Court to rule on the larger question of whether there's a constitutional right to same-sex marriage. Politico reports that the administration appears to have calculated that it has a better chance of scoring victories in both gay rights cases, which will be considered at the end of March, if it doesn't directly challenge the same-sex marriage bans in 29 states that don't offer similar domestic partnerships.
While the brief is carefully worded not to explicitly endorse a federal right to same-sex marriage, it clearly opens up the possibility. "If the court accepts the reasoning that the White House has put forward every state's anti-gay-marriage amendment will fall quickly," Richard Socarides, an adviser to President Bill Clinton on GLBT issues, tells Politico. "Make no mistake about it, the brief is a very bold endorsement of full equality … This is fantastic."