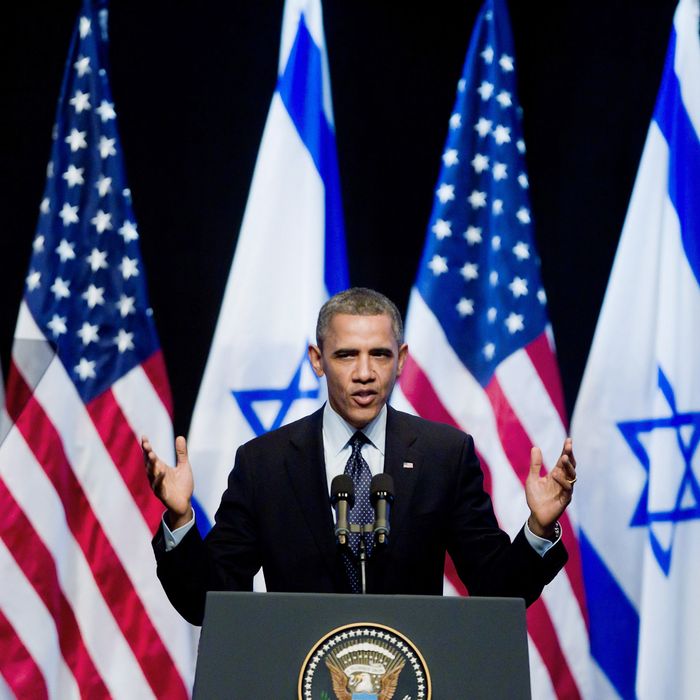 Photo: Uriel Sinai/2013 Getty Images
President Obama today gave a speech in Israel that he probably ought to have given a few years ago. The intellectual content of the address was familiar; it was the emotional content that made it more novel.
Since he appeared on the national stage, Obama has labored under a shadow of distrust among Israelis and pro-Israeli Jews. As John Heilemann explained a couple of years ago, the distrust has been fanned by Bibi Netanyahu and a network of Republicans to whom he maintains close ties and a deep affinity. Obama played to the fear by delivering a prominent address in Cairo in 2009, directed to the Muslim world, without visiting Israel. And though Obama affirmed the alliance with Israel there, the perception remained.
In his belated Israel speech today, Obama established not only a continuous affirmation of the U.S.-Israel alliance but a gut-level understanding of Zionism. He waxed eloquently on the centuries-long Jewish dream of independence and statehood as a basic right of the Jewish people. He endorsed the frustration and distrust Israelis feel for Palestinians in the wake of decades of war, and years in which Israel offered fair two-state plans only to be rebuffed. Obama expressed a view of Israel's history as it is seen from Israel — a noble, tragic, embattled state. If you grew up in a Jewish community, as I did, you have heard the worldview he expressed and you understand, even if you don't agree with, the persistent vein of paranoia that Obama or America will betray Israel and allow the Zionist dream to perish.
Obama held forth on this at great length and detail because he wanted to show Israelis that he comes from a place of deep sympathy, not a lawyerly box-checking. For that reason, his pivot to the cause of peace carried more emotional punch. Obama endorsed Palestinian statehood first as a strategic necessity, telling Israelis they would never have better partners for peace than President Abbas and Prime Minister Fayyad — an argument echoing the case Ben Birnbaum made in the New Republic's cover story.
Obama proceeded to argue for peace not merely as a strategic necessity for Israel but as a basic human right. This passage would have struck terror in Israeli hearts had Obama not preceded it with a lengthy affirmation of Zionism:
the Palestinian people's right to self-determination and justice must also be recognized. Put yourself in their shoes – look at the world through their eyes. It is not fair that a Palestinian child cannot grow up in a state of her own, and lives with the presence of a foreign army that controls the movements of her parents every single day. It is not just when settler violence against Palestinians goes unpunished.  It is not right to prevent Palestinians from farming their lands; to restrict a student's ability to move around the West Bank; or to displace Palestinian families from their home. Neither occupation nor expulsion is the answer. Just as Israelis built a state in their homeland, Palestinians have a right to be a free people in their own land.
Here is the progression of his speech. Having demonstrated empathy for Israel, Obama then asked Israelis to feel empathy for Palestinians.
Of course there is only so much Obama can do. He can't make Netanyahu negotiate peace, nor can he make Palestinians accept one. But as much as he could do with a speech, Obama did today. He probably wishes he gave it a long time ago.