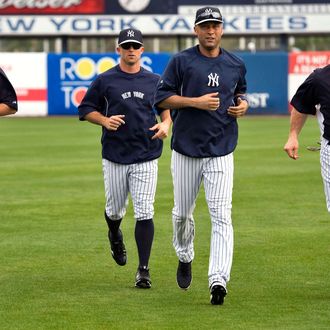 Ichiro Suzuki, Brett Gardner, Derek Jeter and Kevin Youkilis.
Photo: STEVE NESIUS/Corbis
TAMPA — Last night, near the end of the Yankees' exhibition game against the Braves, Yankees general manager Brian Cashman showed up in the press box. It was the day after he broke his fibula and dislocated his ankle jumping out of a plane to raise awareness for the Wounded Warriors project, and one cannot deny that awareness has now been raised to unprecedented levels.
"Everybody's first assessing 'Hey man, are you all right?' And the (razzing) is going to follow. I know that," Cashman told reporters last night. "I feel surprisingly good. "I knew I broke it immediately, but I still don't have any pain, and I'm thankful for that."
Cashman's injury has, understandably, been the talk of Yankees spring training, even more so than Mark Teixeira's forearm injury that will keep him out of the World Baseball Classic. We spent most of Tuesday morning in a Tampa emergency room with an unusually severe finger infection, and when we arrived at George Steinbrenner Field with the finger under several layers of wrap, four different people asked us "if Cash landed on your hand." At one point, reporters gathered to place wagers as to whether or not Cashman would arrive on crutches or in a wheelchair. (Crutches, as it turned out.)
Cashman is back at work today for the Yankees' 1 p.m. game against the Dominican Republic. He's expected to take a car this time.
**************
One of the most fun aspects of spring training is seeing Yankees legends roaming around the clubhouse casually, unencumbered, bumping into non-roster invitees with numbers in the high eighties like it's the most normal thing in the world. (A few years ago, we saw Yogi Berra talking to Cody Ransom for, like, twenty minutes.)
Yesterday, the star visitors were:
• Reggie Jackson, who is always a lot shorter than we realize; if he's really six feet tall, then we personally grew five inches overnight
• David Wells, who is probably the first baseball player in history to have lost weight in the five years since he retired
• Lou Piniella, a native of Tampa and an expert in alligators that might attack Ichiro Suzuki
**************
Another aspect of spring training? The hawkers and the peddlers. Almost every day when reporters are let in the clubhouse for an hour to do interviews, they share the space with odd-duck small business folk trying to get players to buy some sort of peripheral product.
In our years coming down here, we've seen people selling virtual autographs — you can sign an iPad and have the image mailed to someone, still charging full price — energy bracelets, Tampa waterfront property, and even some sort of cooling hat you wear under your ordinary hat. It's bizarre, and even a little uncomfortable, to watch players getting dressed while receiving a sales pitch. (Though one supposes that's sort of what being interviewed is like, too.)
Yesterday's Amway salesman was relatively benign; it was just a guy trying to sell a new kind of baseball bat. (Well, a very old kind of bat, the B45, just one that few players currently use.) It was still strange to see the salesman attempt to sell one through an interpreter. We've never seen a player actually buy anything from the clubhouse, though that might be because there's no place in pinstripes to put your wallet.
*************
The Yankees play the Dominican Republic today at 1 p.m. The television in the clubhouse was tuned to the DR's thrashing of the Philadelphia Phillies yesterday, and much of the room cheered when Robinson Cano homered. Then the cameraman for the Phillies captured a little girl rolling down a little hill at the park for 45 seconds or so. We stood next to Yankees broadcaster Suzyn Waldman and watched the whole thing, then we looked at each other and giggled. The girl was quite cute.