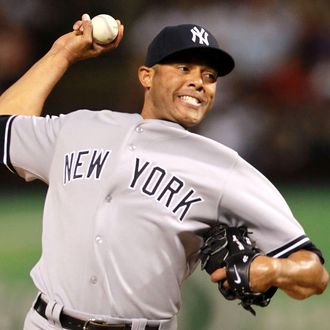 Mariano Rivera.
Photo: Ronald Martinez/Getty Images
At a press conference at 10 a.m. tomorrow, Mariano Rivera — he of the 608 regular-season saves and the 0.70 postseason ERA — is going to announce that he'll retire at the end of this season. Just typing that sentence is strange. He's been so consistent, so dominant, so casually awesome over the past two decades that this, more than anything that's happened since the Joe Torre dynasty teams, feels like the end of something. He's the best closer of all time, the all-time leader in ERA+, one of the great mainstays of the post-strike Yankees — and tomorrow, he'll announce he'll soon hang up his spikes for good. But Yankees fans should be okay with that. At the very least, they should be well prepared to hear him say it.
By all logic, this press conference should have happened years ago. Baseball players aren't supposed to play at such a high level into their late thirties and beyond, and great closers often have an especially short shelf life. (Let's just say that Cooperstown is not reserving any space for Eric Gagne or Francisco Rodriguez.) We won't speak for all Yankees fans, but part of us has wondered for years if Rivera was coming to the end of the line — not because of anything he'd done on the field, but because that's the way this is supposed to work. If Rivera had started to lose it in, say, 2006 — when he was 36 — it wouldn't have come as a shock. That's a normal career trajectory. Rivera, of course, isn't a normal pitcher, but we've nevertheless been steeling ourselves for this moment for years, even as Rivera remained too good to walk away.
In the past couple of years, though, Rivera's retirement has seemed like a real possibility. In 2012, he was in the last season of a two-year contract, and had said prior to the season that he already knew whether he'd be retiring at the end of the year. He had said that he'd probably make that decision public before the All-Star break, but signs pointed to a forthcoming retirement announcement. Rivera was still at the top of his game, but the reality that his career was drawing to a close had begun set in.
Of course, then the warning track in Kansas City happened. Briefly, there was the fear that Rivera's career had ended suddenly in a freak batting practice incident. Needless to say, he deserved a better ending than that, and it was only a matter of hours before Rivera declared that he'd play again — that he'd rehab and return to the mound in 2013. And after Yankees fans got a taste of life without Rivera last year, he did indeed sign a one-year deal to pitch in 2013. By that point, though, it was apparent that he was signing on for a farewell tour. When he said last month that he'd already made a decision about his future beyond 2013, he all but admitted it: Obviously, he wouldn't have already decided to play in 2014, considering he didn't even know how he'd perform during his comeback from injury.
And that's the thing. We don't know how this year will play out. He could be as brilliant as ever, or he could finally show signs of slowing down, or (regardless of what Jinxy McLeitch wrote yesterday) he could get hurt again. But when he announces his retirement tomorrow, not only should we all be prepared for it, we'll be able to appreciate that we get one more year to watch him pitch and give him the send-off he deserves. We can't ask anything more of the guy, so let's enjoy the next few months, and then let his Hall of Fame clock finally start ticking.