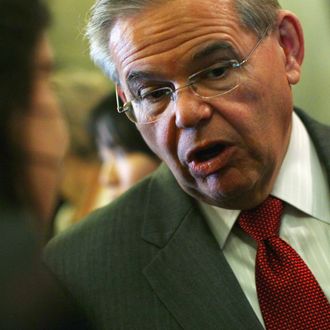 Photo: Win McNamee/Getty Images
The accusation that Senator Bob Menendez solicited underage prostitutes was further disproved on Monday when a spokesman for the Dominican police said they have determined that three women were paid several hundred dollars by a local lawyer to make false videotaped statements. The news confirms the Washington Post's report that one of the women, Nexis de los Santos Santana, admitted in court documents that she had never even met the senator. At the time, the Daily Caller, which posted interviews with two of the women in November, insisted that the Post had the wrong prostitute, but now they don't seem so sure.
Authorities haven't identified the three women, but they say none of them were underage during the time of the alleged encounter. Police plan to interrogate the lawyer, Melanio Figueroa, about the payments on Tuesday and have yet to determine a motive.
The Daily Caller's report on the latest development notes that the Post initially reported that de los Santos was one of the women it spoke to in the fall, "though the described interview bore little resemblance to any interview conducted by this outlet." The Daily Caller now says it's "unclear" if de los Santos is one of the women interviewed by the website or ABC News, adding, "TheDC has not independently verified the identities of the women involved in the Dominican National Police investigation, but will continue to investigate the case."
Menendez spokeswoman Tricia Enright said the new information "proves what we have said all along: that the smear campaign against Senator Menendez is based on lies, lies we now know were paid for by interests whose identities have not yet been fully disclosed." It's true that the prostitution claims are looking less credible by the day, but Menendez still has to deal with the grand jury investigation into his financial dealings with donor Salomon Melgen.