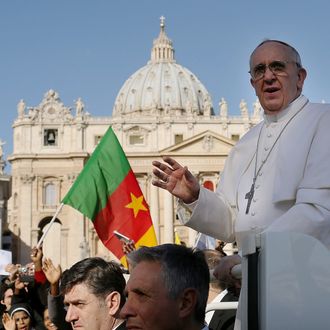 Photo: Spencer Platt/2013 Getty Images
When it was announced that as pope, Cardinal Jorge Mario Bergoglio would be taking the name Francis, after the reformer Francis of Assisi, many briefly got their hopes up before being informed that while he might address corruption in the Vatican, Pope Francis probably won't be reversing any of the church's controversial positions on social issues. However, the New York Times reports that at one point Bergoglio did take a position on gay rights that initially sounds surprisingly liberal. When Argentina was about to legalize gay marriage in 2010, Bergoglio urged the church to support civil unions for gay couples — before he become the face of the church's opposition to the law.
Cardinal Bergoglio made the suggestion at a meeting of Argentina's bishops in 2010, arguing that since the gay marriage bill was almost certain to pass, the church should try to compromise by backing civil unions instead. Bergoglio described it as the "lessor of two evils," according to his authorized biographer, Sergio Rubin, but the bishops voted against his proposal.
Marcelo Márquez, a gay rights leader and theologian, tells the Times that Bergoglio responded quickly and was very respectful when he sent a letter challenging him on the issue around the same time. In a phone call, Bergoglio "told me that homosexuals need to have recognized rights and that he supported civil unions, but not same-sex marriage," says Márquez.
However, Esteban Paulón, president of the Argentine Federation of Lesbians, Gays, Bisexuals, and Transsexuals, notes that while Bergoglio might have struck a conciliatory tone in private, "He took a role, in public, that was determinedly combative," and said some "terrible things." In addition to backing large protests against same-sex marriage, he described the bill in a letter as a "destructive pretension against the plan of God" and argued that gay adoptions discriminate against children. Later he called gay marriage "the devil's work."
The incident does suggest that on social issues, Pope Francis might be somewhat more willing to compromise than his predecessors. However, it isn't hard to look progressive when the previous pope used a Christmas address to describe how homosexuality is destroying the very "essence of the human creature."