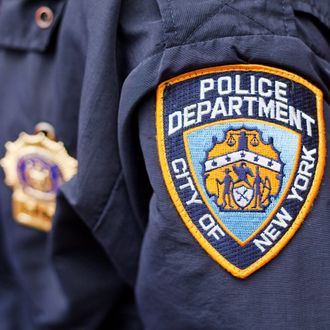 Yet another protest march over slain Brooklyn teenager Kimani Gray split up and devolved into infighting Thursday, DNAinfo reports, as a city councilman blamed outsiders for agitating the neighborhood's youth while those same activists tried to lead demonstrators to the NYPD's 67th precinct for the fourth night in a row. Councilman Jumaane Williams, who has been at the protests this week speaking with community members, vehemently complained about interlopers after Wednesday night's chaotic scene, which saw dozens arrested and two police officers injured as they protested Gray's shooting by police. But on Thursday, one of those activists gave him a direct challenge.
On Wednesday, Williams tweeted, "Furious at adults from OUTSIDE the community who incite our angry young people!!! You do not help and not wanted if you bring destruction!" That vague accusation turned into a face-to-face conflict on Thursday, however, when Williams and Jose LaSalle, the Bronx-based founder of End Stop and Frisk, tried to lead marchers in different directions.
LaSalle, who earlier in the day had tried to shout down Williams at a press conference ("This is a police brutality issue," he yelled; "it's not a community issue!"), wanted to lead the march to the 67th precinct to confront police for a fourth night. Williams wanted to lead people into a church to have a discussion on the issues they'd been protesting, DNAinfo reports.
After members of the two sides began screaming in each other's faces — causing police officers to rush over to see if they needed to intervene — the group split up, with about half following Williams into the church and half marching toward the 67th Precinct with LaSalle.

"NYPD, KKK, how many kids did you kill today?" LaSalle's group chanted as they walked to the precinct.
"Inside the church, fewer than half the ~100 seats are filled, as most opt to stay out on the street," tweeted the Village Voice's Nick Pinto. Meanwhile, the group that marched to the precinct was "pretty mellow," according to reporter Ryan Devereaux, who's been following the protest this week: "Marchers are penned in at the 67th precinct. Definitely not the same demographics as last night," he tweeted. "For example. You didn't see any of this last night." The link that followed showed a man in a Guy Fawkes mask — a hallmark of Occupy Wall Street and Anonymous — holding a sign that read, "angry pacifist."