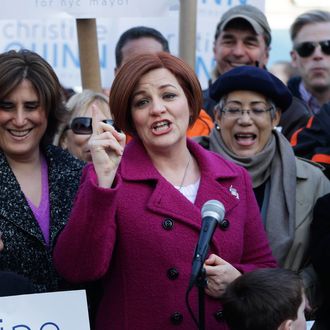 Photo: Seth Wenig/AP/Corbis
Whether and how Christine Quinn would put some distance between herself and Mayor Michael Bloomberg have been two major questions in the 2013 campaign. Her decision this week to support the creation of an Inspector General for the NYPD seems to be another measured step away from the incumbent. But Bloomberg's statement just now about the IG proposal reads like a warning to Quinn that she's risking more than a little breathing room:
"Over the past year, the greatest Police Department in the world has been subjected to constant attacks from elected officials and special interest groups. The latest example of that was the Inspector General bill currently before the City Council…We cannot afford to play election year politics with the safety of our city, and we cannot afford to roll back the progress of the past twenty years. Make no mistake about it: This bill jeopardizes that progress and will put the lives of New Yorkers and our police officers at risk."
Earlier this week, Bloomberg said he'd already made up his mind about whom he'll be voting for this fall, and the political class assumed he'd settled on Quinn. But never forget the lessons of Felix Unger.